The Trotskyite Who Rules Spanish Soccer
(Bloomberg) -- In the 1970s, Jaume Roures was a member of a Trotskyist revolutionary cell and an admirer of Fidel Castro. In the 1980s, he was jailed for hosting a suspected member of the Basque terrorist group ETA in his flat. And last year, the American arm of his company was investigated (but not charged) in an FBI probe of corruption in international soccer.
Today, he's one of the most powerful people in European media.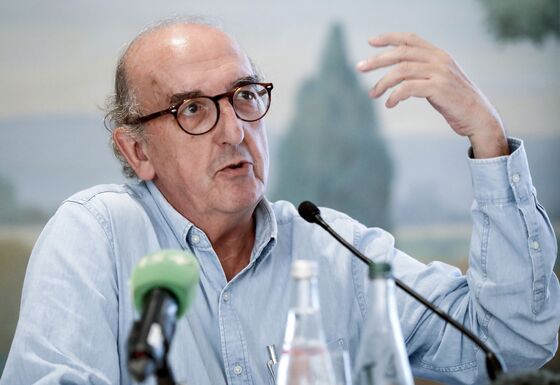 Over the past decade, his company, Mediapro, has dominated global broadcasting rights for Spain's top soccer matches and the rights in Spain for the premier European competition, the Champions League. In May, Mediapro made the highest bid for televising matches from France, making Roures the leading distributor of two of the region's top five leagues. And the company was a major force in Italian auctions this spring, helping drive up prices before losing out to Sky Plc.
While soccer fans are focused on the World Cup in Russia, Roures' power will be tested today as three seasons of Spain's league rights, ending in 2022, are set to be auctioned. Though Telefonica SA will likely bid, the carrier has hinted that it may pull back from soccer after spending lavishly in previous years. Roures, by contrast, says he's in it to win. 
"We know how to develop great programming that's competitive globally," Roures said over coffee in Madrid. "This is good for football, because the product improves and is more valuable, and good for TV because more people want to watch."
Mediapro differs from rival bidders because it has scant presence as a broadcaster. Instead, it typically sells the rights to third parties—often the same companies it outbid in the first place. In Spain, Roures owns three channels that offer live football when matches are on, and otherwise consist largely of endless reruns of sports-related news shows. Internet providers such as Telefonica—which he outbid in the auction—run the channels on their pay-TV systems. Roures says he'll follow that same model in France.
Roures says soccer rights account for about a third of revenue at Mediapro, which also operates channels for ESPN in Latin America and is building a Lionel Messi-themed entertainment park in China. Mediapro is wrapping up a pair of soccer documentaries for Amazon.com Inc., and it produced director Oliver Stone's documentary on Fidel Castro and the Woody Allen film Vicky, Cristina, Barcelona.
Vivendi SA, which lost to Mediapro in France, says Roures overpays and doesn't have the financial backing needed to cover his bids. Mediapro last year reported an operating profit of 187 million euros on revenue of 1.6 billion euros. Mediapro "doesn't know the value of these rights," said Maxime Saada, chairman of Vivendi's Canal+ channel. His company may seek legal redress, Saada said on a May 29 conference call with reporters, though he didn't provide details.
Roures says he has enough money to fulfill his obligations under the contract, and that he can work with clubs to develop broader revenue streams and help shrink the financial gap between top teams and the rest of the league. That, he says, will be essential to his success in France, where he says Canal+ has spent lavishly for rights for the past three decades without doing much to boost the caliber of play in the France.
"You've poured billions and you haven't been able to improve your product?" Roures said. "To develop television, you need to develop the league, and vice versa."
Even at home, Mediapro is starting to face pushback as its primary clients for Champions League rights have expressed reluctance to work with Roures. Vodafone Group Plc has pulled out of talks for renewing its three-year, 100 million euro contract, and Telefonica in April said there's a "distinct possibility" that it may not be interested in buying the rights again. Without those two clients, Mediapro would be left with a single client, while Banco Sabadell estimates it has pledged to pay more than 1 billion euros for the rights through 2021.
Francois Godard, a researcher at consultancy Enders Analysis, says it's unlikely Mediapro will find buyers willing to pay enough to recover its French investment, and a win today in Spain would put prices into "tulip mania" territory. "Mediapro brings no added value," Godard said. "There is no economic need for an intermediary between the seller (the leagues) and the buyers (a handful of TV and telecom operators). Mediapro's strategy is a form of parasitism."
Selling to Internet carriers rather than TV companies, as Mediapro has done in Spain, seems unlikely in France, given that Orange SA has said it's not interested in soccer rights, and Altice NV's SFR, which has participated in the past, is struggling to pay down its 32 billion euros in debt. Roures says he might instead launch a streaming service or satellite broadcasts. "It could be even better for us, because we could go directly to the viewer," Roures said.
Roures, 68, was part of a Communist group in the 1960s and '70s, when the Franco regime had banned the party. During the Franco era, he spent more than two years in prison "for my political ideas," he told Onda Cero radio last year. After Franco's death in 1975, Roures says he spent two years in Nicaragua to support the Sandinista revolution there (though he says he wasn't a guerilla fighter).
In 1983 he was jailed under an anti-terrorism law for harboring a suspected Basque terrorist, though the accusation didn't lead to any charges and he was released after a week. In recent years, he has been an ardent supporter of Catalonia's right to pursue independence.
In 1984, Roures was hired by the state-run broadcaster in Catalonia as a producer. After he was promoted to management, he helped negotiate broadcasting rights for the popular Barcelona FC squad. His partners in those talks included Taxto Benet and Gerard Romy—with whom he founded Mediapro in 1994.
The three partners worked together until February, when Romy sold his stake to Orient Hontai, a private equity firm from China. Romy ran Mediapro's U.S. office, which the FBI investigated in its probe of corruption at FIFA, the governing body of global soccer. Romy says he was questioned but never charged in the matter, but that the case spurred his departure from Mediapro—something the company doesn't dispute. "The issue is under control," Benet said in January. "It was resolved. We are not concerned."