Uber Impact Drives Surge in So-Called Nonemployer Businesses
(Bloomberg) -- Call it the Uber effect.
The number of self-employed U.S. workers in the taxi and limousine services industry, which includes ridesharing, surged 46 percent in 2016 to more than 700,000, according to a Census Bureau report released Thursday. The government defines so-called "nonemployer establishments" as businesses without paid employees that have annual receipts of at least $1,000.
Nationally, the number of these businesses rose 2 percent in 2016 to 24.8 million across all industries.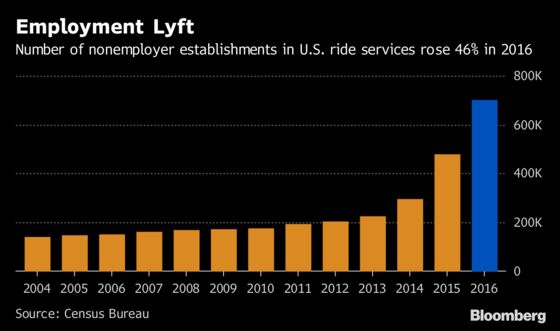 The figures follow a Labor Department report released earlier this month that showed a smaller share of American employees on alternative work arrangements, which includes independent contractors and on-call workers, in May 2017 than in 2005. While that data cast doubt on the extent to which the gig economy is reconfiguring the workforce, the survey excluded those who do freelance work in addition to their main job, potentially overlooking workers who moonlight to supplement their income.