Erdogan Mocks Critics After Rival's Rally: Campaign Trail Update
(Bloomberg) -- With less than 48 hours before polls open in Turkey, the two main candidates sought to rally their supporters with mass gatherings in the biggest cities.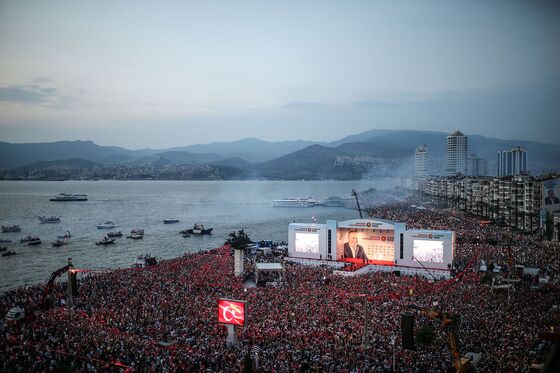 President Recep Tayyip Erdogan was scheduled to speak at seven events in Istanbul Friday and opposition candidate Muharrem Ince traveled to Ankara after his side estimated as many as 2 million turned out for him in Izmir on Thursday. He'll be in Istanbul on Saturday.
Ince said pollsters underestimated the support for his bid to end more than 15 years of Erdogan rule. "In my presidency, the winners will be the 81 million people [of Turkey] and the losers will be polling companies," Ince told the massive crowd that filled the seafront along Izmir's Aegean coast.
Izmir was the first of Turkey's three largest cities where Ince will hold his last and biggest rallies. They'll cap a campaign in which he'll have traveled through 65 provinces and addressed 107 rallies.
Erdogan will stay around Istanbul Saturday, canvassing the city where he became a mayor in 1994, the first big electoral victory that spurred his meteoric rise in Turkish politics.
Ince has been trying to score points with promises to bolster the economy, arguably a weak point for Erdogan after the currency lost nearly a quarter of its value in a matter of months earlier this year.
If he wins on Sunday, Ince said in Izmir, "even Erdogan will not lose because in my presidency, the lira will appreciate and interest rates will fall."
Erdogan has instead focused on what he considers his biggest achievements, flying a presidential jet to Istanbul's third airport, which will among the largest in the world when it opens later this year.
He mocked those who have criticized his projects -- notably a third bridge across the Bosporus -- as wasteful and too expensive.
"Brother, either this way or that way, you cross the bridge that fits your needs. Don't cross the expensive one," Erdogan said. "Those who have the money will use the Yavuz Sultan Selim Bridge. Others will use the other bridges."
As the campaigns wrapped up, a skirmish erupted over the air time candidates had on state broadcaster TRT. Ince's CHP has been accusing state news organizations of betraying their mandate by unfair coverage that gives too little publicity to candidates other than Erdogan.
Ilhan Tasci, a CHP-appointed member of TV watchdog RTUK, said Erdogan and his allies got 181 hours of air time from TRT channels, compared with just under 16 hours for Ince and his backers.
Huda Par, a pro-Kurdish party that supports Erdogan and has no candidate of its own in the presidential election, got more publicity than the SP and HDP, whose candidates Temel Karamollaoglu and Selahattin Demirtas are running against Erdogan. Meral Aksener and her Iyi Party got just over three and a half hours of air time, Tasci said.