Corporate Bond Spreads Jump to 16-Month High Amid Growing Supply
(Bloomberg) -- Corporate bond spreads jumped to the widest level in 16 months Friday as large deals flooded the U.S. market and rising trade tensions scared off some investors.
Investment-grade bond spreads saw the biggest weekly increase since February as companies sold $43 billion of debt, including $31 billion from Bayer AG and Walmart Inc. alone. The market was also shaken by escalating trade tensions between the U.S. and its major partners.
"I can't really see a path for much tightening," said Gordon Shannon, a portfolio manager at TwentyFour Asset Management in London, which manages $17 billion of assets. While company fundamentals are pretty good, the Federal Reserve's rate hikes and trade war tensions are likely to hinder credit spreads, he said.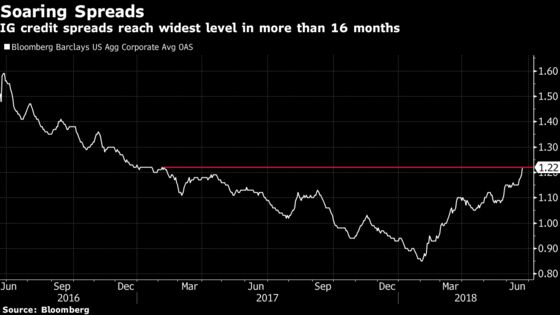 Corporate bond spreads have been widening since February, when they reached the tightest since before the financial crisis. Fewer foreign buyers, rate volatility and trade tensions are chipping away at investor confidence in the U.S. market, according to Thomas Murphy, a portfolio manager at Columbia Threadneedle Investments in Minneapolis.
"A lot of people pushed into our market because of QE overseas. They can now go back to their home markets. Hedging costs have gone up dramatically," said Murphy, whose firm has about $172 billion of fixed-income assets under management. There are also "concerns about rate volatility and concerns on the curve shape changing," he added.
But Murphy said the good news for the market over the longer term is that the fundamentals don't seem to have changed.
And there may be a silver lining in the short term. High-grade bond supply should begin to slow down with the upcoming Independence Day holiday and the start of the second-quarter corporate earnings season, which may keep companies on the sidelines and help spreads tighten, Bank of America wrote in a recent note.
"Of course there is always the possibility that other issuers front-load, but we would not count on it," Bank of America strategist Hans Mikkelsen wrote.