Peter Pan and Mrs. Paul Wouldn't Make a Great Couple
(Bloomberg Opinion) -- It's June, which must mean it's time for merger talks between Conagra Brands Inc. and Pinnacle Foods Inc.
Conagra has approached Pinnacle Foods about a takeover, Bloomberg News reported late Thursday. This isn't to be confused with Conagra's contemplation of a Pinnacle purchase around this same time last year, nor March 2016 when analysts thought a change of leadership at Pinnacle might herald a deal with Conagra. Current Conagra CEO Sean Connolly has a bit of a thing for Pinnacle: He pursued an unpopular takeover of the seller of Birds Eye frozen vegetables and Mrs. Paul's fish sticks while leading Hillshire Brands, but eventually had to scrap it and sell his company to Tyson Foods Inc. instead.
The timing may finally be right for a deal between Conagra and Pinnacle. Jana Partners is pushing Pinnacle to sell itself and also happens to conveniently own a stake in Conagra, where it in the past negotiated changes to the board. When it disclosed its Conagra holding in 2015, Jana sought operational improvements and lambasted the maker of Peter Pan peanut butter and Reddi-wip for failing to address the value destruction caused by its $7 billion acquisition of private-label food maker Ralcorp. Conagra has since made a number of divestitures — including undoing the Ralcorp deal — to help get its balance sheet in better shape and put it in a stronger position to participate in the wave of packaged-food company consolidation.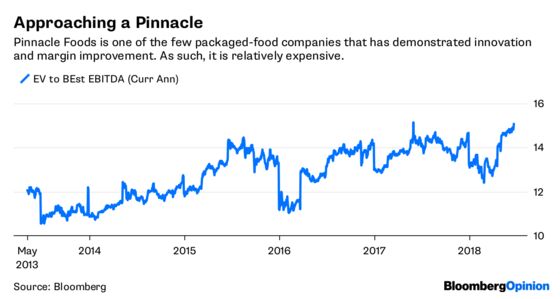 But maybe there is a reason fate has conspired against these two would-be merger partners time and time again. Pinnacle Foods isn't cheap. It's valued at about 15 times its estimated 2018 Ebitda following a 2.3 percent pop on news of the Conagra talks. That's near the highest since its 2013 IPO, and a richer valuation than Pinnacle paid in its $975 million acquisition of Glutino cracker-maker Boulder Brands in 2016.
The idea would be to drive margin expansion at the combined company via cost cuts, but as we've learned from Kraft Heinz Co., you have to have a plan for what comes next. I remain unconvinced that bigger companies are necessarily better. Millennials' taste for healthy food hasn't exempted frozen veggies and meals, and that's been a benefit to Pinnacle. But even so, analysts expect its sales to increase 0.1 percent this year. Thrilling.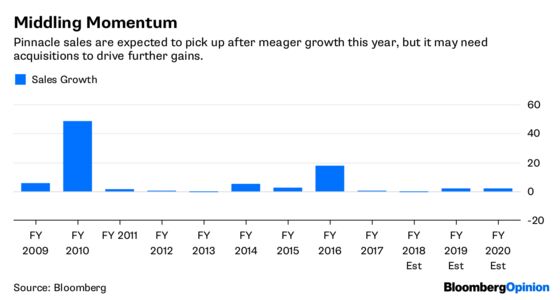 Before the Conagra speculation, Bloomberg Intelligence analyst Michael Halen noted that sales gains for Pinnacle will likely moderate in 2018 without an acquisition as growth in frozen foods is offset by a reduction in retail inventory levels, one fewer week of operations and a reduction in specialty items. Merging with Conagra would temporarily solve that problem, but it's only a matter of time before the combined company will get hungry again.