Brexit Bulletin: What Would Putin Want?
(Bloomberg) -- Today in Brexit: As Airbus threatens to leave the U.K. if it walks away from the EU without an agreement, Britain says the main beneficiary of a messy no-deal Brexit would be the Kremlin.
As negotiations stall, the EU is stepping up its rhetoric about the likelihood of a messy walkout. It is also making contingency plans to protect itself against such a scenario, which could ground planes, obstruct the flow of crucial data, and throw much commerce into a legal limbo. For the first time in two years, the EU is making more noise about a no-deal divorce than the U.K. and while the EU is telling its members to make plans, the U.K. is being criticized for not doing enough to prepare for the worst.
The U.K. will tell the bloc that a no-deal scenario would be a lose-lose outcome, hurting both sides, Ian Wishart reports. Only the Kremlin and countries that dislike European democracy would be happy about it.
It's an interesting line for several reasons. There's much speculation – and some evidence – about Russia's role in the Brexit referendum. Prime Minister Theresa May has slammed Russia for "meddling in elections" without ever citing the EU referendum.
It also suggests the U.K. is getting a bit more worried about how negotiations are going. And news from the corporate world suggests they should be. Airbus SE, which employs 14,000 people at 25 sites in Britain, said it may pull its U.K. investments if Britain walks away without a deal. The European plane-maker also has more than 4,000 U.K. suppliers and supports more than 100,000 jobs in its British supply chain.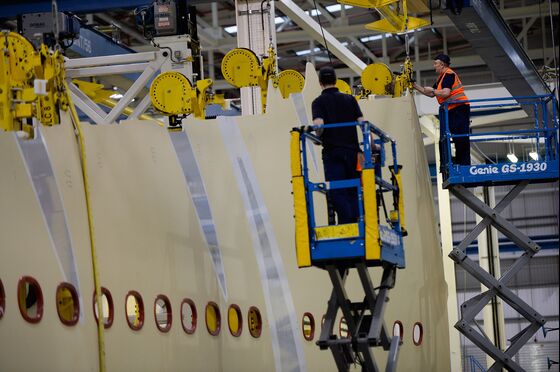 "This is a dawning reality for Airbus," Tom Williams, chief operating officer of Airbus Commercial Aircraft, said in a statement. "Put simply, a No Deal scenario directly threatens Airbus' future in the U.K."
Airbus, a European project, has been attuned to the risks of Brexit from early on in this long process. It's only a question of time before the reality dawns on others, too.
How Banks Will Trade | U.K. Chancellor of the Exchequer Philip Hammond slammed EU proposals for cross-border financial services after Britain leaves the bloc. The EU has rejected the U.K.'s proposal for each side to keep recognizing each other's rules after Brexit to allow companies to maintain access. Equivalence – the unilateral system the EU is proposing as a model after Brexit – can't work, Hammond said. There's been talk of an "enhanced equivalence" regime, but Hammond dismissed that, too. "Enhancement, like beauty, is very much in the eye of the beholder," he said. "Although I have heard talk of 'enhanced equivalence,' I have not yet seen a credible proposal for what it might mean or a clear articulation of how it might work."
How to Stay | EU citizens in the U.K. will have to pay 65 pounds to apply for settled status after Brexit, and bureaucrats will be encouraged to be "flexible" when assessing applications. Proof of employment, mortgage statements or rent will work as proof of residence, the government said. The Daily Mail, a pro-Brexit, anti-immigrant newspaper that wields huge influence, wasn't pleased.
Vote of Confidence | Woody Johnson, the U.S. Ambassador to the U.K., is upbeat about Brexit. "Don't be pessimistic, have faith. How can a country with this great a history, this great a language, this great a legal system, this great a presence not be successful?" Johnson was quoted as saying in a Channel 4 documentary. He suggested the U.K. take inspiration from President Trump "and do some of the things he has done."
New Friend | Thailand wants to reach a trade agreement with the U.K. after Brexit, Prime Minister Prayuth Chan-Ocha's delegation told Theresa May during a visit to London. "I think this is a good opportunity for both of us," Kobsak Pootrakool, a minister attached to the Thai premier's office, told Bloomberg TV.