U.S. Homes Prices Least Affordable in Almost a Decade
(Bloomberg) -- The American dream continues to fade for many people. Housing affordability dropped this quarter to the lowest since late 2008, according to data released this month by the National Association of Realtors.
In May, the median price of a previously owned homes rose to a record $264,800, NAR data show.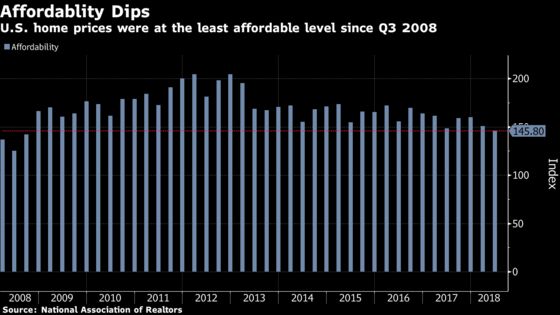 A separate report from ATTOM Data Solutions shows average wage earners would need to spend 31.2 percent of income to buy a median-priced home this quarter -- above the historic average of 29.6 percent.
Home price appreciation, coupled with rising mortgage rates, have pushed three-quarters of average wage earners out of the market with property costs rising faster than wages in 64 percent of regions surveyed, ATTOM reported.
"Home price appreciation continued to outpace wage growth, speeding up the affordability treadmill for prospective homebuyers even without the rise in mortgage rates," said Daren Blomquist, senior vice president at ATTOM.