Saudi Arabia Wins MSCI Upgrade; What Do Investors Think?
(Bloomberg) -- Investors expect a pick-up in liquidity and improvements in corporate governance after MSCI Inc. included the Middle East's biggest stock market in its emerging-market index.
Saudi Arabia's Tadawul All Share Index has risen 14 percent this year in the run-up to MSCI's decision, among the best performers in the world. That compares with a 6 percent drop in a gauge that tracks developing-nation equities. Saudi stocks advanced 0.5 percent in Riyadh on Thursday.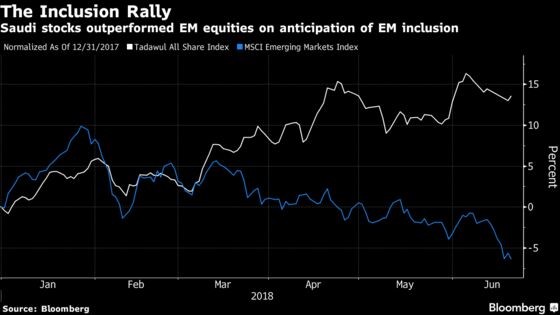 David Aserkoff, Sahil Dhingra and Naresh Bilandani, analysts at JP Morgan Cazenove:
Inflows from FTSE plus MSCI should be about $15 billion
"If Saudi hits 10% ownership of the free float by end-19, we should see $800 million in monthly inflows –- a faster pace that we've seen so far this year"
"Foreign flows need to accelerate in the coming year or so for ownership to achieve Qatari levels, which is still incredibly low vs EM; Saudi foreign ownership is 2%, while in Turkey, foreign ownership of the free float is about 65%"
Michael Bolliger, the head of emerging-market asset allocation at UBS Wealth Management's chief investment office:
"International investors will need time to understand the dynamics of the market and to familiarize themselves with the risks involved. Companies trying to further improve their investor relations can make an important contribution"
Given the pipeline for IPOs in the kingdom, and if the cap on foreign ownership is lifted, Bolliger expects Saudi Arabia's share in the EM index to increase "significantly over the next 12 months, which could bring the market closer to an index weight of 6 percent, similar to South Africa (6 percent) or Brazil (5.8 percent)"
"For Saudi Arabia and the region, this is a great opportunity to move into the limelight of international foreign investors, and to attract inflows"
Hootan Yazhari, the head of MENA and global frontier markets at Bank of America Merrill Lynch:
"Global emerging-market fund managers will effectively be forced to have a view on Saudi Arabia. Therefore, Saudi's profile and awareness among fund managers globally will increase"
Saudi companies will be "increasingly compared to international peers by investors, therefore making management teams more likely to focus on improving strategy, efficiency and overall performance as they seek to compete for capital. Accountability to shareholders will also increase"
The IPO market could also pick up "as market liquidity grows and demand for new investment opportunities increases. This could be supportive of government privatizations," including Aramco
Mohamad Al Hajj, an equities strategist at the research arm of EFG-Hermes in Dubai:
"Saudi Arabia's market performance over the next few sessions is of little relevance in our view. Some selling of the fact is expected"
The upgrade will be conducted over two phases: in May and August 2019, leading to $5.7 billion in each phase; with Saudi Arabia making up about 2.6 percent of MSCI EM
"We still believe banks are the best way to play this. Samba Financial Group, Al Rajhi Bank, and Banque Saudi Fransi are in our MENA Top 20"
Michael Malkoun and Jaap Meijer, analysts at Arqaam Capital, write in a report:
Passive inflows alone should be about $10 billion
It's more likely that MSCI will transition Saudi Arabia's standalone index to EM at the time of inclusion
Ziyad Al-Ashaikh, Deutsche Bank's chief country officer for Saudi Arabia:
The inclusion "represents a major milestone. Not just for the kingdom, but for the entire Middle East and one that demands a great deal of attention from institutional investors globally"
The market's potential is very bright going forward
Antoine Maurel, head of global markets for Middle East, North Africa and Turkey at HSBC Bank Middle East Ltd.:
It is "a game changer for Saudi Arabia's capital markets. The Tadawul has already seen record international inflows this year in anticipation of this move –- at around $3.5 billion"
Expects "at least a further $35 billion of inflows" as a result of the MSCI inclusion
"This will create a much deeper and more liquid market, which will support the long-term development of the Tadawul as a global exchange"
Michael Daoud Irsaneous, senior vice president of Africa, Middle East equity sales at Auerbach Grayson and Company LLC:
"You could see a small dip in the market after the announcement as some investors will be taking profits, but we should see a quick rebound as investors start placing themselves ahead of the implementation next year"
"Other markets in MENA might see muted performance as they face some EM outflows as well as outflows towards Saudi and Egypt, which are the two markets that have underlying catalysts"
He considers that actively managed foreigner funds, as well as regional and local funds, will be the ones "to drive the market higher, as they have the discretion to do so, while passively managed will have to wait till the implementation date next year"
Daniel Salter, head of equity strategy and research for Eurasia at Renaissance Capital Ltd:
The decision is "transformative for the Middle East as an investment destination"
"Our data suggests that international active equity funds benchmarked to MSCI Emerging Markets have in many cases tended to ignore them: positioning data shows a large consensus underweight for both"
"Though some investors may choose to build positions before the inclusion date, many others will take time to assess the market and get to know the listed companies better, a process which has already begun"
Bassel Khatoun, managing director for frontier and MENA, and Salah Shamma, head of investment for MENA, at Franklin Templeton Emerging Markets Equity:
Inclusion could trigger re-rating of Middle East and North Africa markets as investors look to regional opportunities beyond Saudi Arabia
Bulk of new investment entering Saudi Arabia will likely come from other EM constituents, the largest of which are China, South Korea and Taiwan
In the 20 countries that have been promoted to MSCI EM status since 1994, markets have delivered a median return of 55% in the year prior to effective inclusion in the MSCI EM Index
Saleem Khokhar, the head of equities at the global asset management division of First Abu Dhabi Bank PJSC:
For other Middle East markets, "the event could cause a slight liquidity impact as investors position in Saudi Arabia. MSCI expectations have led to higher valuations, but underlying company earnings will take be the main driver for markets post June"
Motor insurance sector "appears interesting as women will soon be allowed to drive. Healthcare looks interesting on better insurance intensity and privatization prospects; consumer looks good from an unorganized to organized market share shift brought about by Saudization"
Banks will be beneficiaries of better net-interest margins in the near term and credit demand that privatization could bring about over the longer term
Ali Adou, head of asset management at Daman Investments:
"As of today, the foreign investors ownership in the Saudi Market is around $9.2 billion, and we expect this ownership to increase until the actual inclusion date"
"The Saudi authorities have made significant improvements in the rules and regulations to attract foreign investors. When compared to their peers in the EM space, the Saudi market is at par"
"Although Saudi is trading at a forward price-to-earnings of 16x versus EM, of 12x, we still believe that there space for further re-rating of multiples"
"Analyzing the inclusions of the U.A.E., Qatar and Pakistan, PE multiples expanded with an average of 50% from their historical averages"
Mazen Alsudairi, head of research at Al Rajhi Capital Co. in Riyadh:
Expects "foreign ownership to gradually improve, with an improving economy"
"We could see less dependence on cash trading as more instruments get introduced in-line with global standards"
"As more foreign funds flow in, we could see free float improving as the market becomes more institutionalized and retail ownership declines"
Asad Siddiqui, equity analyst at Al Khair Capital:
"Despite muted earnings-growth outlook, we believe the sheer weight of Saudi Arabia in MSCI EM index post upgrade would be responsible for handsome inflows to the market"
"Amongst recently upgraded markets (U.A.E., Qatar and Pakistan) to EM, Saudi would have the highest weight post upgrade, which can potentially double following a successful listing of Saudi Aramco"
Abhishek Kumar, sector head for emerging markets debt, fixed income beta at State Street Global Advisors:
The inclusion "could be an important development for fixed-income markets as well"
"Saudi Arabia has above $68 billion of local currency sovereign bonds outstanding and is among the last few major markets which have not been added to fixed income indices." With the listing of bonds on Tadawul, "prices have become more readily available"
"This has increased the transparency of the markets and would allow investors to fairly value their bond investments"