Last Week's IPO Is Today's Big Winner in Internet Tax Rally
(Bloomberg) -- Avalara Inc. wasn't a party in today's U.S. Supreme Court decision that let states collect sales tax from online retailers, but it still looks like the case's big winner.
Shares in the sales tax management firm rose as much as 32 percent after Wednesday's ruling, extending gains to more than double since its public debut last week. The Seattle-based company said in its IPO prospectus that many customers of all sizes initially start with its Avatax product to help with collecting sales taxes. Those clients are later offered additional services within Avalara's ecosystem.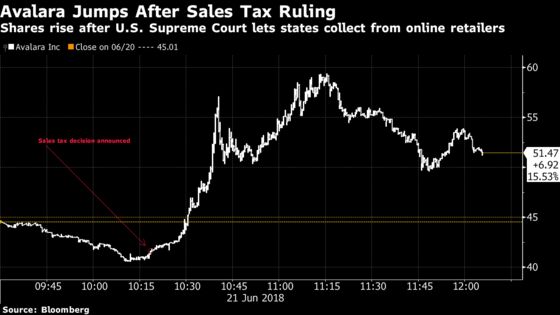 "The responsibility for accurately determining and collecting sales tax generally falls on the seller, which must go through a series of steps to determine the tax due for each transaction," the filing said. "These steps involve complexities that are often prone to error and difficult to manage when conducted manually." But the filing also warns that changes to tax policy could force the company to spend money on new solutions or attract new competitors.
A spokesperson for Avalara declined to comment on the impact of the Supreme Court decision, which also pressured shares of online retailers including Amazon.com, Wayfair and Etsy and tax preparers such as H&R Block and Intuit.