GE Dangled a Breakup. Investors Now Expect It.
(Bloomberg Opinion) -- Once again, General Electric Co. has found itself caught in a trap of high expectations.
Shares of the industrial conglomerate fell to the lowest intraday level since July 2009 on Thursday after CNBC reported CEO John Flannery won't necessarily announce a full breakup when he discloses his vision for GE's portfolio (something he's widely expected to do in the next couple of weeks). This should tell Flannery two things: Investors are anticipating an update sooner rather than later, and they want something big.
GE itself has fed into those expectations, perhaps unwittingly. Flannery's comments about "no sacred cows" and the possibility of Baker Hughes-like publicly traded structures for other GE businesses have fed speculation a broader overhaul is in the offing. The timing assumption stems in part from his April proclamation that he'd share more on GE's reorganization strategy "within the next couple of months." There's the added benefit of changing the narrative ahead of its July 20 second-quarter earnings report. A disappointing showing could finally force GE to lower annual guidance that appears too optimistic, given the ongoing challenges in the company's power unit.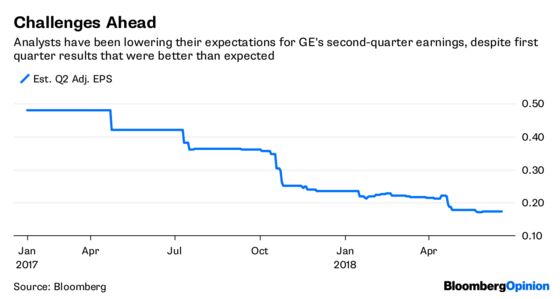 GE hasn't put an actual date on the calendar as it did for its underwhelming November investor meeting, but it also hasn't actively discouraged expectations for an imminent announcement on the portfolio, so here we are. This dynamic is a risk for Flannery. GE has gotten into a pattern during his tenure of allowing optimism to build, only to announce incremental changes ( November investor meeting), even worse news (January's surprise $15 billion reserve shortfall at a GE Capital insurance unit) or nothing at all (the infamous no "quick fix" line from May's Electrical Products Group conference). Investors will not be kind to him if there's another disappointment.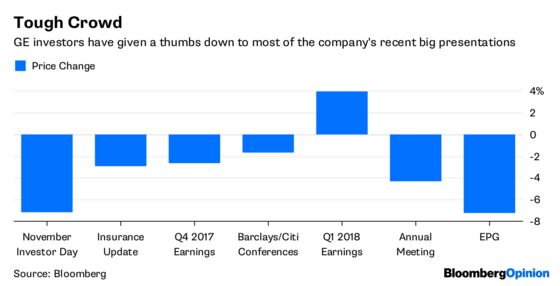 A big event to announce a divestiture of GE's stake in Baker Hughes would be one such letdown, in my opinion. As a publicly traded entity, Baker Hughes would be one of the easier pieces for GE to sell, but it's not a new idea. The company in November said it had assembled a board committee tasked with evaluating exit options for Baker Hughes, but backtracked in February and said it wouldn't do anything until a lockup period expires in 2019. JPMorgan Chase & Co. analyst Steve Tusa has estimated a Baker Hughes divestiture would bring in $20 billion, about $10 billion short of the cash GE needs to cut its debt level to credit rating firms' targets. Questions about the dividend and the risk of a possible downgrade would persist.
A divestiture of the Baker Hughes stake also doesn't do that much to simplify GE, as that business is already regarded as a separate entity to an extent. GE would still be a behemoth and the struggles in its power unit would continue to overshadow its good healthcare and aviation businesses. Something more dramatic is likely necessary. That said, there are a variety of ways to "break up" GE that don't necessarily involve each of its main business units standing alone.
For example, GE could sell its Baker Hughes stake, spin off its health-care business and sell GE Capital Aviation Services. It would still be a diversified manufacturer, but less sprawling. Maybe Flannery pulls off a miracle and finds a deal for both the power unit and the long-term care insurance assets that have given GE so much trouble. That would certainly remove a lot of risk. The most radical idea would be a sale of the marquee aviation business to Honeywell International Inc., whose market value is now within a couple billion dollars of GE's own, or maybe even Boeing Co., regulators permitting. There's also speculation of a sale of the fast-growing life-sciences business, which would at least raise a decent amount of cash.
There are problems with all of these ideas that will have to be worked out, including the effect on GE's large pension deficit. At issue in the latter two scenarios is whether GE would get the price it wants for these crown jewels and the fact that it would dilute the remaining company's growth and profit potential by parting with them. But my point is that there are a number of in-between options that could justifiably count as a breakup. At the very least, Flannery should be prepared to deliver an idea along those lines. Many investors expect that much.