EM Dollar Debt Attracts Buyers After Trader Dumps Local Bond ETF
(Bloomberg) -- Call off the panic in emerging-market dollar bonds.
On June 20, a trader dumped about $321 million of the VanEck Vectors J.P. Morgan EM Local Currency Bond ETF, leaving investors wondering if the exchange-traded fund, and the underlying debt, was about to tank. Meanwhile, buyers bolstered the iShares J.P. Morgan USD Emerging Markets Bond ETF, or EMB, triggering a record $413 million of inflows on the same day.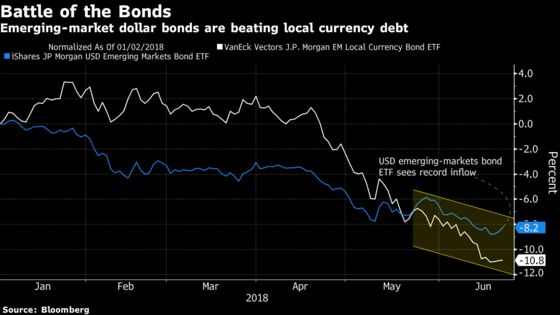 Emerging-market local currency bonds had been one of Wall Street's favorite trades earlier this year. But they flipped from darlings to deadbeats in the April selloff, as the debt fell twice as much as dollar-denominated notes issued by developing nations, with the rebounding greenback squeezing returns for foreign investors.
The move is a reversal from 2017, when local-currency bonds outperformed their dollar-based counterparts by 2.7 percentage points, according to Bloomberg Barclays indexes. At the time, one of the arguments for holding the debt was the expectation it would be more insulated from U.S. yield moves. That didn't turn out to be the case.
"Blame it on the dollar," Bloomberg Intelligence analyst Eric Balchunas said. "This has all the markings of a wirehouse model portfolio adjusting their EM debt exposure based on a strengthening greenback."
Bank of America Corp. and Charles Schwab Corp. each held at least the number of shares traded of the local currency bond fund based on their quarterly filings as of March 31, according to data compiled by Bloomberg.