Demographic Trends: Deaths Exceed Births in Puerto Rico
(Bloomberg) -- Puerto Rico's population is shrinking and in 2017 deaths exceeded births for the first time in at least seven years, according to Molly Cromwell, a demographer at the U.S. Census Bureau.
The total population shrank by 69,343 from July 1, 2016 to July 1, 2017, according to newly released census data. The effects of Hurricane Maria, which struck later in 2017, are not included in these values.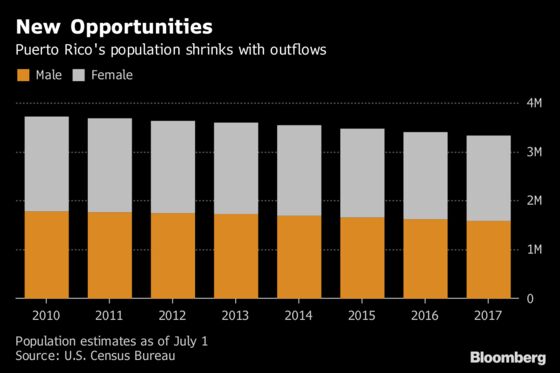 Residents have been fleeing Puerto Rico and Hurricane Maria likely exasperated this trend. In the last seven years, the 18-and-under population plunged to 656,796 from just over 903,000. The population of young adults, ages 18 to 24, dropped to 322,000 in 2017 from 335,000 a year earlier and 375,000 in 2010. Since 2010, the number of births on the island has fallen by about 40 percent.
The result is a sharp rise in the median age on the island. In 2017 this was 41.6 years (39.7 years for men and 43.3 years for women) compared to 36.9 years (35.1 years for men and 38.6 years for women) in 2010.
There are now nine men for every 10 women in Puerto Rico. Women outnumber men in every age group of 25 and over.