Barnes & Noble CEO Tells Wary Investors Turnarounds `Take Time'
(Bloomberg) -- As the largest U.S. retail bookseller tries to enact a turnaround, some investors may be losing their patience.
Barnes & Noble Inc., which saw same-store sales drop 5.4 percent in the latest year, said it's expecting that measure to improve this year. Double-digit declines in gifts, music and movies drove also down comparable sales in the fourth quarter ended April 28. Still, a renewed focus on toys and games -- plus a revamped gift business -- could help it pull off the comeback that Chief Executive Officer Demos Parneros has been promising.
"Turnaround plans take time," Parneros said on an earnings call Thursday. "And while our performance has been somewhat disappointing, we began to make steady progress in fiscal 2018."
The company's shares fell as much as 10 percent in intraday trading after the release of results, the most since January. They pared losses following the U.S. Supreme Court's decision that states can require the collection of sales tax on internet purchases, which boosted the overall brick-and-mortar retail sector.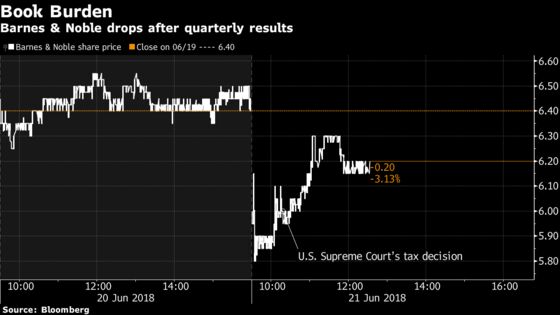 The results come as Parneros wraps up his first year on the job as CEO. Since he took the helm last April, the stock had fallen more than 25 percent through Wednesday's close and hit its lowest point in about a quarter century in March amid heightened competition from the likes of Amazon.com Inc.
Its plan to revamp its toy and gift business comes as the world's biggest toy chain, Toys "R" Us Inc., closes its doors. The renewed focus on toys marks a turnaround in strategy after Barnes & Noble tried to scale down that business and place a greater emphasis on books going into the holiday shopping season.
The company is also curbing costs -- it slashed $40 million in expenses last fiscal year -- and it's testing smaller pilot stores with an enhanced focus on the customer experience and food.