Africa's OPEC of Cocoa to Face First Test on Farmer Prices
(Bloomberg) -- The top two cocoa growers' plan to work together to exert more control over global prices will face a key test in just over three months.
Ivory Coast and Ghana, which produce about 60 percent of the world's cocoa, have indicated they'll coordinate their farmers' price announcements for the new season that starts in October. If they can achieve that, analysts say it will bode well for other, more ambitious plans to coordinate bean sales and manage exports.
The countries, which are seeking more control in the market after sharp price swings over the past three years, offered some more details of their plans last week. While the moves may not have much immediate effect on global prices, they would help boost stability in West Africa's notoriously opaque cocoa sector.
"The acid test is going to come in October," said Edward George, the head of group research at Ecobank Transnational Inc. "If they get it right, it proves that cooperation can work and, beyond bringing stability and clarity, it would immediately mean that other things that they talked about look more likely to happen."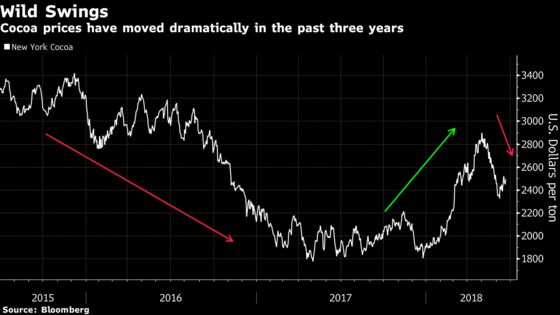 To be sure, the cocoa market is much more focused on the "overwhelming" speculative flows driving prices at the moment, said Jonathan Parkman, co-head of agriculture at London-based brokerage Marex Spectron Group, who has been in the market more than 30 years.
"It's a good thing that they are speaking about their common goal and interests and it's a very sensible thing to do, but I don't think we will necessarily see the market higher or lower as a result of that," said Parkman. "The practical application of what Ghana and Ivory Coast are talking about will not have a major impact on the market unless we get to some extreme price level."
Some of the planned coordination may be hard to achieve because both countries compete in the global market. Since Ivory Coast reformed its cocoa sector, adopting a forward sales system similar to Ghana, key and reliable information on bean arrivals, exports and crop forecasts became harder to come by.
Still, coordinated farmer pricing would help reduce smuggling between the two countries and make it easier to lend to the industry, George said.
Ecobank cut the number of cocoa companies it lends to in top grower Ivory Coast by a third after some clients didn't have their exporting licenses renewed following last season's crisis, in which plunging prices forced a wave of defaults by local exporters.
"If you know that there are two prices in Ivory Coast and Ghana that are aligned then that reduces a lot of risk for us and logically we are able to lend more which is good for the sector," George said. "A good fixed price which is enforced at the farmgate is a very, very good incentive for farmers to plan their planting, which will in turn help lenders."