Some Think Intelsat's 500% Rally This Year Is Just the Beginning
(Bloomberg) -- If the price is right, come on up. That seems to be the message from Intelsat, a Luxembourg-based satellite telecom company whose stock has blasted off some 450 percent since early April.
Intelsat is 23 percent higher today alone, spurred by the Federal Communications Commission's likely adoption of its C-band spectrum this week, says RBC Capital Markets analyst Wilton Fry. The stock's on pace to close at its highest in more than four years.
Intelsat's a turnaround story after long "suffering with declining revenues and Ebitda on a stretched balance sheet," Fry wrote in a note.
The recovery has been aided by the sale this month of $500 million in stock and convertible bonds as Intelsat took advantage of its soaring stock price and sought to pay down debt.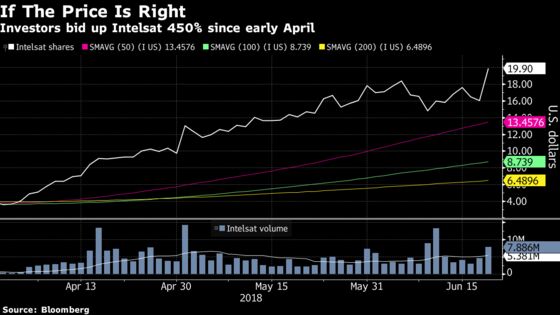 Coupled with management's decision to lower its capital expenditure guidance as software defined satellites are used more, Fry believes the raise has "enabled Intelsat to break the captive nature of some its debt instruments leaving a pathway to refinance until 2023."
RBC Capital Markets today upgraded Intelsat to outperform from sector perform, and raised its price target to a Street-high $30 -- from $5.