Pound in Need of a Helping Hand May Not Find One in Carney
(Bloomberg) -- The Bank of England's meeting this week may bring little cheer for the beleaguered pound as patchy economic data cast a shadow over the prospects of tighter U.K. monetary policy.
Strategists at Goldman Sachs Group Inc. maintain their call that the BOE will refrain from raising interest rates before November, while HSBC Bank Plc sees a downbeat outlook for the British economy. Bank of America Merrill Lynch analysts also expect the central bank to adjust policy only toward year-end, but caution that there is a risk that policy makers led by Governor Mark Carney disregard recent data and signal an August rate hike.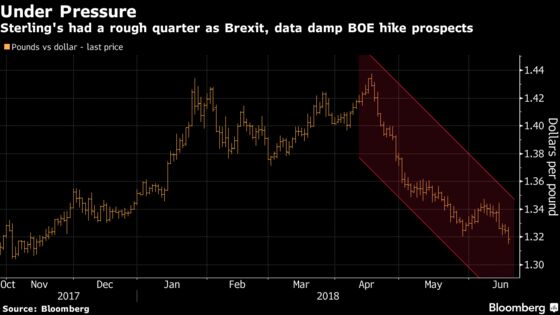 Sterling has slid almost 6 percent against the dollar since the end of March, heading for the biggest quarterly loss in two years, as mixed U.K. data and Brexit uncertainties chipped away at prospects of a BOE rate increase in August. Money markets are currently pricing about a 45 percent chance of a 25-basis-point hike in August, down from 55 percent at the start of last week.
Below are some strategist views on BOE policy and market implications:
Expects a 7-2 vote for no change in Bank Rate in Thursday's announcement
Expects MPC "to acknowledge the possibility that the weakness of output in 1Q reflects a more persistent slowdown than envisaged in May -- a slowdown less likely to be symptomatic of temporary weather effects," according to economist Adrian Paul
The minutes are "likely to allude to intensifying political risks associated with Brexit negotiations"
Goldman sticks to base case of 25bps rate increase in November, forecasts sterling to weaken to 91 pence per euro in six months, 92 pence in 12 months from the current level of around 88 pence
BOE will "want to keep the door firmly open for a hike in August" so might focus on better data such as employment, according to strategist Daniela Russell
Market attention will be on the MPC vote and any signals for a rate increase in August
Still, HSBC has started to buy front end of the U.K. gilts last week
"For us, regardless of whether or not they hike in August, the big picture hasn't changed"
"The risks to the growth outlook are skewed firmly to the downside"
Continued Brexit uncertainty "may persuade the MPC to remain cautious for a little while longer"
Bank of America Merrill Lynch
BOE will stay on hold in August and on Thursday "they will issue a 'holding statement' after their policy meeting," according to strategists Sebastien Cross and Kamal Sharma
Recommended receiving August MPC-dated OIS back in April (entered at 61bps, targeting 50bps and with a stop at 67bps)
While U.K. data have been mixed, BofAML strategists "continue to see growth struggling to pick up sufficiently for the BOE to justify a hike by August"
Biggest risk at this week's meeting is "the minutes flagging an increased willingness among the MPC to hike rates regardless of the data"

"This is one reason we limit our long to the very front end of the curve heading into the meeting," they write in a client note dated June 19
Nordea strategists including Andreas Steno Larsen "see an increasing risk that the market will get carried away by the prospect of an August hike"
Wouldn't be surprised to see a replay of the market moves ahead of the May meeting unfolding in the pound over the summer

"First stronger GBP, as the market buys into the August hike, then weaker GBP once the market takes the hike off the table again due to poor data"

Still "favor more structural downside in GBP/USD, but don't consider the timing for another short optimal right now"
The BOE will likely want to keep the option of an August hike on the table, according to Chief Economist Philip Shaw, who predicts policy makers to raise rates in November
Carney's Mansion House speech after the BOE decision on Thursday may provide clues on future policy
Predicts EUR/GBP will stay around 87 until the end of 2018
"While market economists have been more optimistic regarding a move in 2018, recent surveys suggests that they too are losing faith," according to Jane Foley, head of currency strategy
Hard to say how sterling will react to Thursday's BOE decision as "many people are sidelined; politics is so confusing that people just are not getting involved"
Brexit uncertainty means Rabobank sees "little reason to question our view that the pound can fall further in the coming months," predicting the pound will slip to $1.28 by year-end
EUR/GBP will push toward the 0.89 area on a three- to six-month view