French, Euro-Area Reforms Can't Come Fast Enough for Villeroy
(Bloomberg) -- France and Europe must seize the opportunity offered by still-solid growth to shore up their economies and institutions in a world that is becoming more uncertain by the day, Bank of France Governor Francois Villeroy de Galhau said.
"At a time when the international environment remains favorable but still fragile, the greatest risk would be to sit back and do nothing," the European Central Bank Governing Council member said in his annual letter to French authorities. "In 2018, the world is becoming more unstable, and the euro area in particular is seeing a return of uncertainty."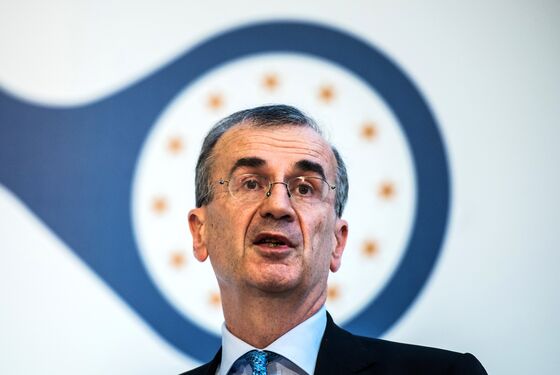 Villeroy urged French President Emmanuel Macron to keep up the pace of reforms after an "exemplary acceleration" in 2017, saying that the focus must shift to reducing public spending. He also stressed the need to strengthen the euro's institutional set-up in the face of Italy's new euro-skeptic government.
On Tuesday, Macron and German Chancellor Angela Merkel agreed on a blueprint to fortify Europe against financial crises and strengthen its global influence which includes a joint budget for the region and a beefed-up European Stability Mechanism. The bloc's two largest economies still have to muster support from other governments.
Villeroy said "uncertainties surrounding the new Italian government's policies constitute an additional difficulty in the ongoing negotiations, but at the same time increase the need for them."
Villeroy said that ECB policy will remain "accommodative" even after bond buying ends in December, stressing that monetary-policy normalization will be "gradual and predictable."
The French governor highlighted protectionism as one of the key risks weighing on investment and financial markets, urging the European Union and Canada to stand up in defense of globalization and multilateralism. A trade dispute between the U.S. and China risks spiraling into a protracted trade war after President Donald Trump threatened to impose tariffs on another $200 billion of Chinese imports which would be immediately matched by Beijing's government.
"Protectionism is dangerous even for the U.S., it's a no-win game," Villeroy said earlier on Wednesday in an interview on France Inter radio. It will "hit the poorest consumers first in the U.S. and will make them poorer."