Moody's May Be Bugbear for Erdogan But Investors Are Harsher
(Bloomberg) -- Whatever President Recep Tayyip Erdogan might say about Moody's, Turkey's bond yields show investors see the country's debt in much less favorable terms than the ratings companies.
Turkish officials have long said the nation's credit score doesn't reflect economic fundamentals, accusing the ratings companies of bias. But last week, Erdogan went one step further, saying Turkey will conduct an "operation" against Moody's Investors Service once this weekend's elections are out of the way. The New York-based company said earlier this month it may cut Turkey's Ba2 credit rating, citing the country's uncertain policies.
Yet bond yields show Moody's isn't being as harsh as the market.
Turkey's dollar-denominated debt maturing in October 2028 yields just 20 basis points less than similar-maturity bonds sold by Nigeria, a country Moody's rates three levels below Turkey. And it yields less than 80 basis points below Argentina, a nation in the grips of a currency crisis that necessitated a $50 billion back-up loan from the IMF and led to a change of central bank chief.
Read More: Turkey Bonds Slide as Erdogan Pledges to Cut Rates If Wins Vote
"Given the uncertainties about the Turkish economy and the recent volatility, it's certainly justified for rating agencies to be quite cautious," said Richard Segal, a senior analyst at Manulife Asset Management Ltd. in London. "We should not criticize the rating agencies because they are paid to have an independent view. You can agree or disagree but they should not be criticized for having a view."
A Moody's spokeswoman declined to comment on Erdogan's statement.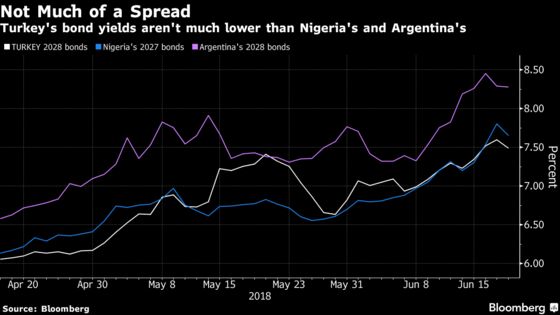 Erdogan's reaction to Moody's echos Vladimir Putin's outrage in 2011, when the Russian leader called for his government and other ex-Soviet countries to set up their own ratings company. Four years later, Moscow-based Analytical Credit Rating Agency began business after Russia was cut to junk by Moody's and S&P Global Ratings.