Britons Are Still Earning Less Than Before the Financial Crash
(Bloomberg) -- British workers remained worse off last year than before the financial crisis and there is little hope of a decent pickup in living standards, according to a think tank.
Real median employee earnings in 2016-17 were as much as 3 percent below their 2007-08 level, the Institute for Fiscal Studies said in a report Wednesday. While workers are making less, pension and savings income has increased, leaving total household income 5.6 percent higher than in 2008.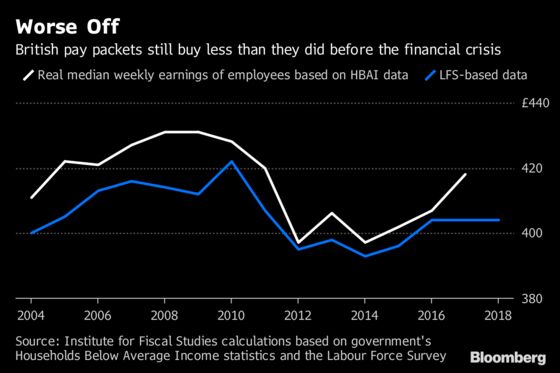 The findings highlight the continuing pressures facing British consumers. Lackluster spending and Brexit-crimped investment are expected to see the U.K. economy lag behind most Group of Seven peers again this year, economists say.
The IFS also warned that earnings probably stagnated in 2017-18 because of the surge in inflation since the Brexit vote and said weak growth is likely to continue in the coming years if Office for Budget Responsibility forecasts prove correct.
Much depends on whether Britain can improve its dismal productivity performance, the IFS said.
"When and whether growth in living standards is to return to the 2 percent or so seen over the 40 years before the Great Recession is thus to a large degree contingent upon the unwinding of the productivity puzzle," IFS economists Jonathan Cribb, Agnes Norris Keiller and Tom Waters argued. "If in fact the slow growth in productivity is the 'new normal,' then the same will be true for living standards growth."
The report also found that inequality between the richest and poorest is little changed since the start of the recovery, with incomes growing fastest around the middle of the income distribution. The proportion of people living in poverty declined to 19 percent.
Separate figures from the Office for National Statistics Wednesday show the average annual income of the richest fifth of households was 88,800 pounds ($117,000) in 2016-17 -- 12 times greater than that of the poorest fifth. The ratio falls to less than four after accounting for benefits and taxes.