Brexit Bulletin: Groundhog Day
(Bloomberg) -- Today in Brexit: Another day brings another crunch vote for Theresa May.
In her relatively short tenure as prime minister, Theresa May has faced her fair share of crucial votes in Parliament.
Wednesday brings one more, as the premier fights the latest iteration of her long-running battle with pro-European rebels in her own party to keep control of the U.K.'s exit negotiations.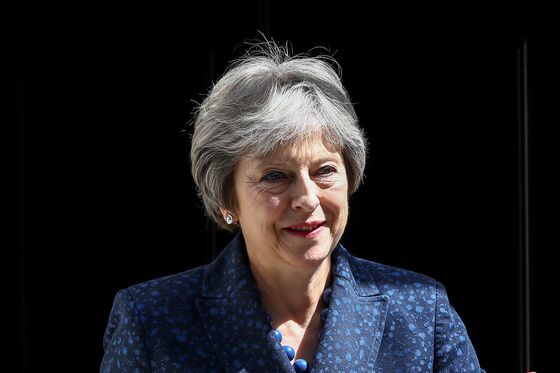 May is facing a revolt over whether she should have the power to take the U.K. out of the European Union without a deal, or if Parliament should have a "meaningful vote" on the way forward in the event that talks break down. The matter will come to a crunch Wednesday afternoon in London, with what looks likely to be a close vote in the House of Commons. If May is defeated, Parliament will effectively neutralize her threat to walk out of Brexit negotiations if the final accord isn't good enough.
That argument won the day in a vote in the House of Lords on Monday, but Brexit backers in May's party believe this would weaken Britain's negotiating position and could even open the door to keeping the country inside the EU. Some have even privately warned they will try to oust May if she loses, though it's not clear they will have enough support to remove her.
If May survives Wednesday's vote, her key piece of Brexit law, the European Union (Withdrawal) Bill, will clear Parliament and head into the statute book. Still, it won't bring an end to the woes of the beleaguered prime minister. Yet another clash with rebels is looming as soon as next month over whether the U.K. should stay in the European customs union.
While what's been agreed to represented a "step forward," according to the chief EU Brexit negotiator Michel Barnier, "a lot more work needs to be done by October."
U.K. Brexit Secretary David Davis sounded a slightly more optimistic tone, saying, "there remains work to be done, but we are taking important steps forward."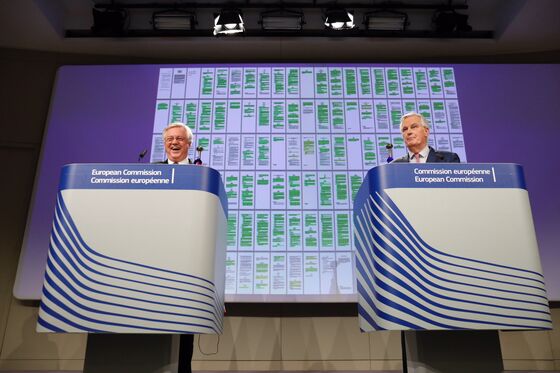 EU leaders will say next week that they're concerned about the lack of progress in Brexit talks, and call for member states to step up preparations in case no deal is reached, according to the first draft of their summit statement. 
Barnier on Tuesday rejected the U.K.'s efforts to keep security ties almost unchanged after Brexit, saying Britain's own negotiating red lines mean cooperation will be weaker. He also pushed back against the U.K.'s request to remain in the European arrest-warrant scheme, saying it's based on free movement of people.
Spy Chief | Jeremy Fleming, director of Britain's GCHQ surveillance agency, used a visit to NATO headquarters in Brussels to remind the EU of the importance of reaching a deal on that topic. Fleming said that that U.K. intelligence had provided information that had helped to break up terrorist plots in four European countries over the past year, according to the Guardian, adding that he was confident that the security relationship would continue after Britain left the bloc.
Game of Chicken | Millions of people and trillions of dollars of derivative deals could be affected if the U.K. and the EU don't come up with a way to ensure contracts stay in force after Brexit, according to bank lobby group TheCityUK. Companies could be left at risk of playing a "game of chicken with the finances of customers across the whole of Europe." 
ECB Oversight | The European Central Bank has edged closer to gaining power over financial clearing, a lucrative business dominated by London and a flash point in the Brexit negotiations.
Dutch Case | Dutch judges rejected a bid to seek guidance from EU Court of Justice on the post-Brexit rights of British citizens living in the rest of the EU.
Drug Test | In addition to being hopelessly divided over Brexit, May's Conservatives are also making time to find new grounds for division, Kitty Donaldson writes. The government is struggling to show unity on any number of issues, from how to fund a boost to the National Health Service to whether to review its approach to medicinal cannabis.