A Tax Holiday Gives Malaysians Reasons Not to Fear Inflation
(Bloomberg) -- Malaysians already enjoy one of Southeast Asia's lowest inflation rates, and with the removal of a consumption tax, consumers are getting an added boon.
A 6 percent goods-and-services tax was scrapped this month by Prime Minister Mahathir Mohamad to meet an election pledge and a replacement sales levy won't be introduced until September. The new government is also subsidizing some domestic fuel prices for the rest of the year.
That's putting downward pressure on inflation and giving the central bank scope to keep interest rates on hold after an early hike in January. Economists like Khoon Goh at Australia & New Zealand Banking Group Ltd. have slashed their inflation projections down to 0.7 percent this year from 2.7 percent previously.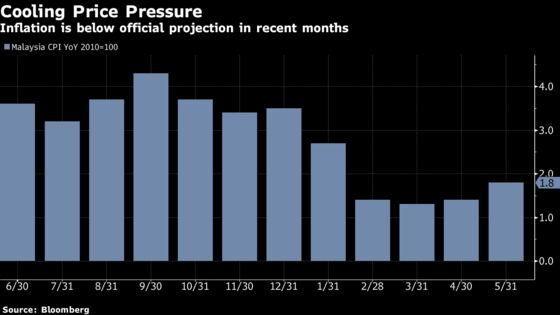 The timing couldn't have been better for the central bank, which is facing a period of uncertainty following the sudden resignation of Governor Muhammad Ibrahim and no successor named yet. A slowdown in inflation gives Bank Negara Malaysia some respite as counterparts in Asia scramble to tighten monetary policy amid a rout in emerging-market currencies.
"These are very significant policy moves," said Euben Paracuelles, an economist at Nomura Holdings Inc. in Singapore, who cut his 2018 inflation forecast to 1.3 percent from 2.5 percent. "With inflation coming in even lower, we think the rate hike they did earlier was a one and done, though that will ultimately depend on the new governor."
Click to read BE report on how Malaysia's central bank may extend its rate-hike pause to 2019
Former deputy governor Nor Shamsiah Mohd Yunus is widely tipped to be named governor to replace Muhammad, who left under cloud when questions were raised about the central bank's role in a land purchase deal linked to the troubled state fund 1MDB.
The tax move won't show up in the May inflation figures reported on Wednesday, with consumer prices rising 1.8 percent from a year ago, pushed up by higher transport costs. In March, the central bank projected inflation will average 2 percent to 3 percent this year. ANZ trimmed its 2019 inflation forecast to 1.7 percent from 2.9 percent.
A month into office, Mahathir has moved swiftly to fulfill campaign promises which included scrapping the GST. The government is setting aside 3 billion ringgit ($750 million) for the rest of this year to subsidize some pump prices, Finance Minister Lim Guan Eng said this month.
Bank Negara was one of the first to raise interest rates in Asia in January this year. The majority of economists surveyed in May and June predict the key rate will remain at 3.25 percent until the end of the year.
Still, a windfall for consumers isn't a done deal. Some business owners may hold back on passing the full cost savings to consumers until they get details of the replacement levy. A restaurant in an affluent neighborhood in Kuala Lumpur was issued a warning by authorities this month after it raised prices.
Prices on "certain types of services which are linked to tourism, entertainment and travel would definitely come off because that's a very straight-forward impact," said Rahul Bajoria, a senior economist at Barclays Plc. in Singapore. Items like food might take a little bit longer to reflect the change because of existing inventory that have been charged with GST, he said.
It's also cumbersome to drop prices just to raise them again when the sales tax kicks in later, he said. "It could be the case that the impact may not be as large as it was when the GST was being imposed," Rahul said.