Theresa May Could Fund the NHS Without Breaking Her Tax Promises
(Bloomberg) -- There is a way for British Premier Theresa May to solve her political predicament of increasing spending without violating a pledge to avoid raising taxes: wait.
The embattled prime minister can carry out her promise by only imposing new revenue raising measures after 2022, when the next Parliament is seated, says Simon French, a former senior civil servant who helped deliver the government's austerity program.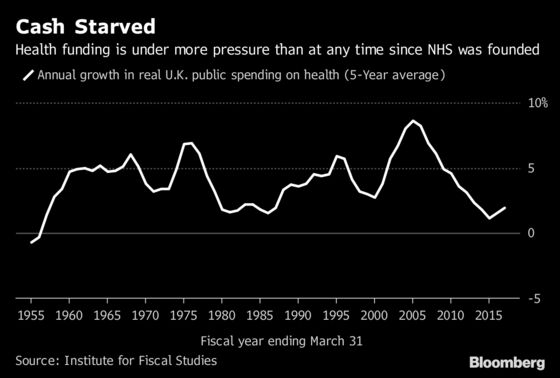 Otherwise she'd be forced to tear up her 2017 election promise to slash corporation tax and increase the personal allowance to give the NHS an extra 20.5 billion pounds ($27 billion) by the financial year 2023 and 2024, the Guardian and Financial Times reported Tuesday. That also poses a challenge for Chancellor of the Exchequer Philip Hammond, who is averse to raising taxes for working people and isn't quite ready to end the country's eight-year austerity program.
"You can move most of the tax raising into the next Parliament. Most of it is 2022 money, so you're not necessarily breaking a manifesto commitment," said French, chief economist at Panmure Gordon & Co, who was also a Chief of Staff to the Cabinet Office in 2014, where he helped ministers find 20 billion pounds of savings as part of then Chancellor George Osborne's austerity program.
In the short term, the Chancellor may need to find extra money from taxes, but he could crack down on employers in the gig economy, rather than raising income tax, national insurance contributions or even Value Added Tax, says French.
The Treasury is currently consulting on plans to extend a tax avoidance law called IR35 that seeks to uncover "disguised employees." About one third of self employed people in the U.K. should really be on company payrolls as they are working like employees, the department says.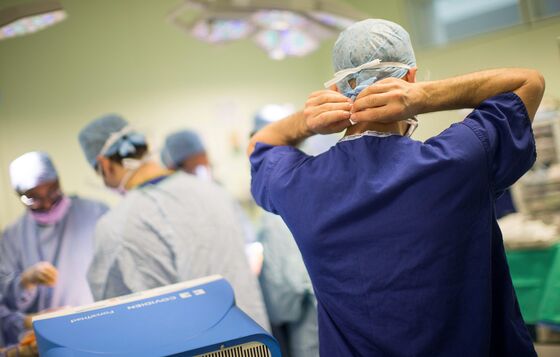 The public sector is already bound by the law, and extending it to the private sector including companies like online meal delivery service JustEat Plc could raise 1.2 billion pounds a year by 2022 and 2023, the Treasury says.
The crackdown may even meet the Tory party manifesto pledge to better protect the growing number of workers in the gig economy. Earlier this month, a British plumber won a legal battle to be classed as a "worker," giving him the right to vacation pay and to sue his employer Pimlico Plumbers Ltd.
There may also be other ways of making up the shortfall. Hammond is seeking to crack down on digital taxes and is due to unveil a Budget in the autumn that will also deliver a package of new taxes to deal with plastic waste. Any decision on how the money will be raised for the NHS won't come until next year when the Chancellor is due to unveil a public spending review for the period after 2020, but he may have more options that he's letting on.