Marine Le Pen Loses EU Court Fight Against Fund-Misuse Order
(Bloomberg) -- French far-right leader Marine Le Pen lost an EU court challenge against a European Parliament order to pay back almost 300,000 euros ($346,700) after being accused of misusing funds earmarked for aides' salaries.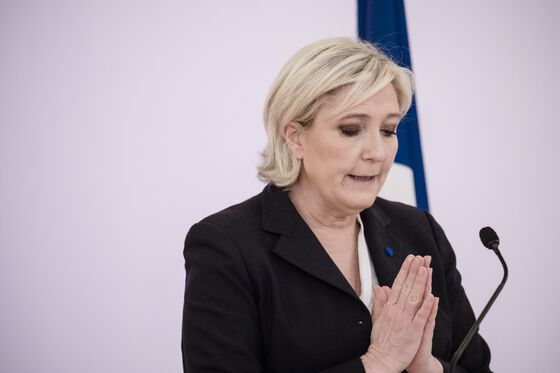 Le Pen failed to show that the amount of money received was used to pay for genuine work by an assistant, the EU General Court said in a ruling in Luxembourg on Tuesday. The decision can be appealed.
Le Pen said last month she might run again for president in 2022 if she's the best-placed within her side of the French political spectrum.
The European Parliament said in 2016 that 298,498 euros had been unduly paid to Le Pen for the period from December 2010 to February 2016. It gave her until January 2017 to pay the sums back or have it deducted from her monthly parliamentary salary.
Wallerand de Saint-Just, treasurer of the party, which was rebranded Rassemblement National, said they will appeal.
"The court says its ruling was not discriminatory, but it was because it didn't take into account all the evidence brought by Mrs Le Pen," he said by phone.