High-Flying Tech Stocks Are Being Dragged Down With Market
(Bloomberg) -- Some of the most volatile tech stocks are seeing their first major pullback this month.
Snap Inc., Twitter Inc. and other social-media and internet names are getting hit the hardest. The group appears to be getting dragged down by the broader markets thanks to escalating trade tensions.
Snap fell as much as 9.9 percent today while Twitter dropped more than 5 percent. DropBox Inc. and Box Inc. both broke lower by more than 6 percent at one point.
DropBox is part of the mania over recent technology IPOs, where some of the companies that priced offerings in the past couple of months have seen their shares double or triple. Among these are Bilibili Inc. and HUYA Inc., which are declining along with DropBox Tuesday.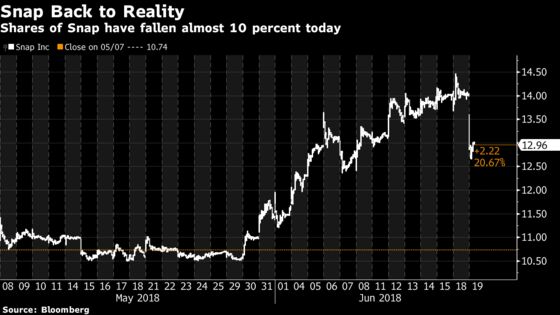 While the retreats in tech stocks seem worrisome, they are rather modest when you consider how much these shares rallied this month before today: DropBox up 40%, Twitter up 33%, and Snap up 23%.
Cowen analyst John Blackledge reiterated his underperform rating on Snap, trimming estimates after a proprietary survey showed the company's U.S. users spent about 33 minutes a day on the app, down 7 percent year-over-year.