Ex-Wall Street Trader Feels the Heat Atop Argentina Central Bank
(Bloomberg) -- It wasn't a falling star Luis Caputo anticipated when he predicted just eight months ago that Argentina would prove the "star of emerging markets for the next 20 years."
But that's what the former JPMorgan Chase & Co. banker confronts now in his new role, after swapping the helm of the nation's Finance Ministry for that of its central bank. The 53-year-old is tasked with restoring the monetary authority's credibility after the currency posted the biggest drop in emerging markets and as stocks head for the worst year in almost a decade.
Goldman Sachs Group Inc. and Brown Brothers Harriman are among those raising warning flags about budget ballooning deficits, inflation running above 25 percent and an unconvincing plan of how they will deal with it all.
The hope is that having run JPMorgan's Latin America trading desk and overseen Deutsche Bank AG's Argentine unit, Caputo has the investment savvy to become the man with the plan.
"What we're facing is a little bit of a battle between the market and the central bank," said Pablo Goldberg, an emerging-market debt portfolio manager at BlackRock Inc. in New York. Caputo "is a trader and a banker, and that helps with the tug of war."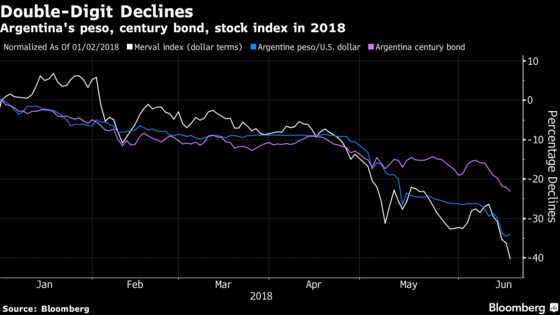 The peso has shed a third of its value since the end of December. It lost 10 percent just last week, even after Argentina obtained a record $50 billion credit line from the International Monetary Fund in an attempt to ease concerns.
Amid the carnage, the central bank and government have struggled to convince traders that they have a plan. Policy makers jacked up interest rates on three separate occasions, intervened directly in the market at times and at one point set a floor for the peso that was eventually abandoned. President Mauricio Macri says he wants to cut spending and shore up the country's finances, but proposals to trim social programs are meeting resistance.
Caputo, who is married with six children, has been through tough spots before. As finance minister, he helped arrange a deal for Argentina to sell 100-year bonds, a rarity for a developing nation. He was a key figure in reaching a deal with debt holdouts from Argentina's 2001 default, an accord that put the country on the path back toward normalcy after Macri's election in 2015.
In an October interview, Caputo said he loved every moment of the negotiations, calling it "by far the best, most adrenaline-filled moment" of his career.
Daniel Pollack, the mediator between Argentina and the holdouts during the talks, said Caputo used private meetings to get two of the hedge funds battling Argentina to break ranks and strike a deal, but not before his personal intervention and at least one direct conversation with billionaire Paul Singer of Elliott Management, the biggest of the creditors.
In a call, toward the end of the negotiations, Pollack said Caputo helped to persuade Singer to drop some of his demands. Caputo "tore into him," Pollack said in an interview, declining to say what the specific issue was. "There was quite an explosion."
A spokesperson for Elliott Management declined to comment.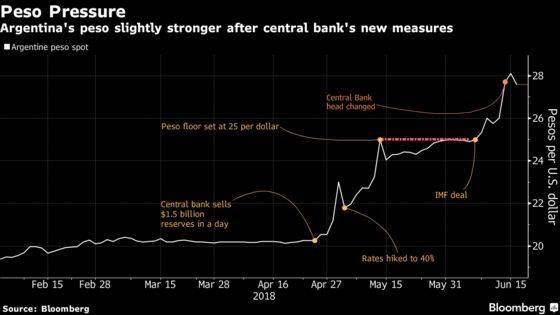 Analysts at shops including Wells Fargo, Credit Agricole and Standard Chartered say the troubles remain for the peso no matter who runs the central bank. They point to a widening current account deficit, stubborn inflation, heavy debt load and the potential for an unfavorable political environment to take hold before presidential elections in 2019. The dollar's rally this year, as well as less investor tolerance for vulnerable emerging markets, are also hurting Argentina.
Former central bank chief Federico Sturzenegger already "used the whole range of tools at his disposal to hold back the depreciation of the peso," said Thomaz Favaro, an associate director at political consultancy Control Risks. "There isn't much else that Caputo can do. In many ways this is a lost battle."
Caputo hasn't made any public comments since taking over the central bank. The peso has edged higher, but barely.
Back in October, when Caputo was predicting decades of success for Argentina, he knew there was a risk he could come off as a bit overconfident.
"I don't mean to be cocky," he said, but Argentina's potential is "very evident."
Now investors need him to clearly outline how he will bring stability to the peso. The central bank has announced daily foreign exchange auctions after the spot market closes and adding measures to absorb liquidity from the financial system.
The peso's plunge "is not a problem without a solution," said Alberto Ramos, the head of Latin America research at Goldman Sachs. "It's just a question of getting the right interpreter in there."