EU Floats Plan to Rescue Merkel as Refugee Disputes Boil Over
(Bloomberg) -- European Union officials are seeking support for an immigration plan that would help German Chancellor Angela Merkel contain a rebellion in her government as disputes over refugees threaten to dominate next week's summit of the bloc's leaders.
Leaders are being asked to back a joint statement saying the EU's current asylum system is "severely at risk" due to the movement of migrants from one country in the bloc to another, according to a draft of the conclusions dated Tuesday obtained by Bloomberg. Member states "should take all necessary internal legislative and administrative measures to counter such movements and to closely cooperate amongst each other."
The wording may help appease German Interior Minister Horst Seehofer, who leads the Bavarian sister party of Merkel's Christian Democratic Union, and has given the chancellor a two-week ultimatum to secure an EU agreement that would return migrants to the countries in which they were first registered. If she fails to deliver, Seehofer has threatened to start turning away migrants at the German border in defiance of the chancellor.
In the run-up to the June 28-29 summit that is supposed to be focusing on euro-area integration and Brexit, Spain is attacking Italy's hardening stance on refugees while French President Emmanuel Macron is calling for a revamp of the EU's system for sharing the burden of asylum seekers. Three years after droves of people fleeing wars and chaos in the Middle East and North Africa threatened to overwhelm the EU, the immigration crisis threatens to throw European politics into disarray once more.
While the number of people arriving in Europe this time round is just a fraction of what it was in 2015, right wing politicians in Italy, Austria, Poland, Hungary and Germany are tapping into voters' resurgent anger.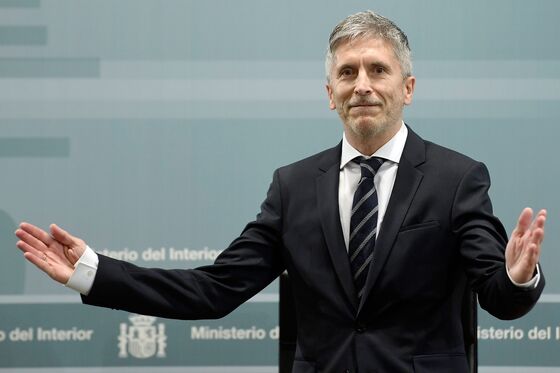 Italy's anti-immigrant firebrand Matteo Salvini, who also heads the interior ministry in a populist coalition government, last week refused to allow a rescue ship with more than 600 people aboard to dock in Sicily -- with Spain stepping in to offer shelter. Spanish Interior Minister Fernando Grande-Marlaska said on Tuesday that the bloc needs to find a humane way to deal with immigrants that also offers protection to citizens.
"We can't make this a choice between humanity and security," Grande-Marlaska said in an interview with Spain's state broadcaster TVE on Tuesday. "Security and humanity together must be completely viable."
In Germany, Seehofer's threat to defy the chancellor's authority and act unilaterally to turn away refugees constitutes an unprecedented challenge to her authority. Merkel accepted his ultimatum, asking for time to reach a broader deal and avoid border controls, which threaten to undermine the bloc's principles of free movement.
Asked whether the wording of the summit conclusions is intended to appease Seehofer's concerns, an EU government official said that is open to interpretation.
Merkel is meeting Macron in Berlin on Tuesday to prepare for next week's summit with the stakes rising. Not only is the chancellor facing a threat that could unravel her coalition just months after it was formed, but Macron's objective of mapping out a new phase of integration for the euro and across the 28-nation bloc is being overshadowed by the fights over immigration.
The problem is that Seehofer's demands would see migrants returned to countries such as Italy that deal with the majority of arrivals because of their geographic position. But the new Italian government has come to power arguing that Italians unfairly bear the brunt of the immigration influx and their EU neighbors should shoulder more of the burden.
Under the bloc's Dublin Convention, refugees are supposed to apply for asylum in the first EU country they enter, though many push on to richer countries such as Germany.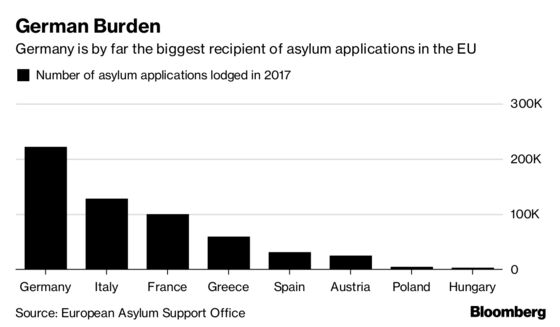 France's Macron will also hold talks with the new Spanish Prime Minister Pedro Sanchez on Saturday, ahead of the meeting of EU leaders in Brussels.
In a further concession to hardliners, the EU is also set to back "regional disembarkation platforms" to help deal with the migration influx in the Mediterranean, according to the draft conclusions. "Such platforms should provide for rapid processing to distinguish between economic migrants and those in need of international protection, and reduce the incentive to embark on perilous journeys," according to the copy of the draft obtained by Bloomberg.