Bank Stocks in Johannesburg Feel the Pain as Investors Shun Risk
(Bloomberg) -- South African bank stocks tumbled to their lowest levels this year, victims of an aversion among investors toward riskier, emerging-market assets as the U.S. and China square up for a trade war.
Johannesburg's banking-sector benchmark slumped as much as 3.8 percent Tuesday to levels last seen in December. It's on track for the deepest three-day decline since December 2015.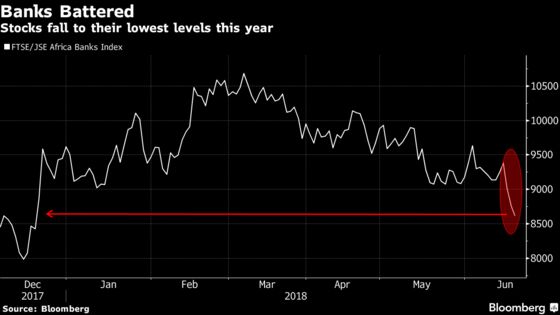 The retreat reflects a broader aversion to emerging-market assets, rather than issues specific to South Africa, said Adrian Cloete, a banks analyst at PSG Wealth. While local events, such as a recent spate of rolling power cuts by state power utility Eskom Holdings SOC Ltd., may have caused concern, these aren't top of mind for investors.
"In the past year, we also saw our sovereign risk increase, but that was because of domestic factors," he said. "We still need to grow our economy, and Eskom's load-shedding doesn't help. There's a lot we need to address, but I don't think that's the problem."
The rand has lost 3.2 percent against the dollar in the past two days, the worst performance among emerging-market currencies. Yields on benchmark South African government local-currency bonds have climbed to the highest in six months, signaling steeper costs for lenders, following a sell-off by foreigners.
Barclays Africa Group Ltd. was 2.2 percent lower in Johannesburg trading Tuesday, Nedbank Group Ltd. dropped 2 percent, FirstRand Ltd. fell 1.8 percent, Standard Bank Group Ltd. lost 1.8 percent and Capitec Bank Holdings Ltd. declined 0.7 percent.
Further declines in the rand toward 14.50-15 per dollar may be necessary before the inflationary conditions exist that could prompt the South African Reserve Bank to consider raising its key lending rate, said Ayan Ghosh, investment strategist at Avior Capital. "We are forecasting flat rates, in sharp contrast to markets pricing in 70 basis-point rate hikes over the next 18 months," he said. "Usually that is an opportunity to get into South African banks, with Nedbank and Capitec being our top picks."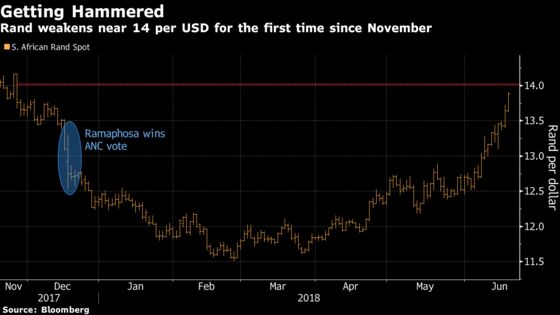 South African lenders' developing country peers extended their declines Tuesday, with the MSCI EM Banks Index dropping 0.6 percent, falling for a fifth day to the lowest since November.