Kerviel Plays Last Card to Shift Blame Onto SocGen for Loss
(Bloomberg) -- Jerome Kerviel is playing one of his last cards to lay blame on Societe Generale SA for a massive trading loss he was found guilty of causing at the bank a decade ago.
Kerviel headed to court again on Monday to convince French magistrates during a non-public hearing that his criminal conviction -- confirmed at the highest level in 2012 -- deserves a retrial. He maintains that his superiors looked the other way as long as he was making money for the bank, and is asking authorities take another look at his case.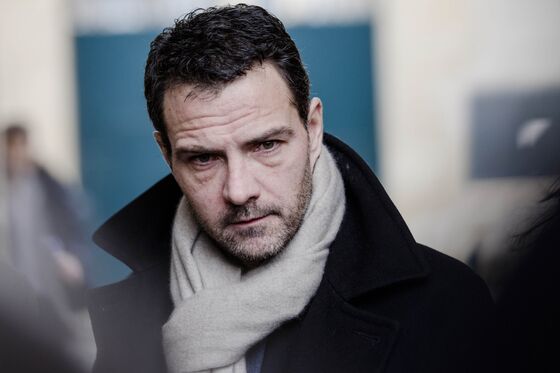 The panel -- the committee of investigation of France's court of review and reassessment --has the power to order fresh probes even when convictions have been confirmed by the country's top court. The judges will rule on his bid for a retrial on Sept. 20, Kerviel's lawyer said.
The former trader -- seen as a folk hero by some -- has been trying for almost a decade to shift blame for the 4.9 billion-euro ($5.7 billion) loss. Kerviel had some success in court in 2016 as the Paris employment tribunal awarded him about $500,000 in compensation for unfair dismissal after berating the bank for its role. Later that year, French judges said that Kerviel should pay SocGen 1 million euros, a fraction of the initial trading loss he caused.
The Versailles court of appeals said SocGen's "multiple faults" mean the bank "had a major and decisive role" in allowing the incident, one of the most famous cases of rogue trading in history. The ruling also put in jeopardy a 2.2 billion-euro tax credit SocGen received in 2008 because of the record trading loss.
Julien Dami Le Coz, Kerviel's lawyer, said he was "perfectly confident" about his client's bid. He added that he came to court with "fresh elements" but refused to specify what those were.
Dami Le Coz said Societe Generale "spared no expense" -- coming with three big-shot lawyers -- to end up saying there's nothing new. "One can't help but wonder why they even came," he told journalists at the end of the day's hearing.
SocGen's lawyers declined to comment before and after Monday's hearing.
The court should order a retrial of Kerviel's criminal conviction if it's "won over" by the evidence brought forward on Monday, Dami Le Coz said. Otherwise, judges could decide his bid is "inadmissible" or order further investigations to dig deeper.
Kerviel, 41, served five months of his three-year prison sentence for abusing SocGen's trust.
During the Versailles hearing, Kerviel's lawyer produced a covert recording of a senior prosecutor he argued casts doubt on a number of issues regarding SocGen and the handling of the investigation by French authorities. The tape is expected to be debated during Monday's hearing. It was made in 2015 by Nathalie Le Roy, the police officer who led Kerviel probes in 2008 and 2012, and subsequently told investigators about her own misgivings about the case.
"Societe Generale knew, they knew," Chantal de Leiris, a former vice-prosecutor on the case, told Le Roy, according to a transcript read by Kerviel's lawyer in court. "That's obvious, obvious."
According to the transcript, de Leiris expressed concerns about SocGen's interference in police and prosecutors investigations, saying that Le Roy was "manipulated" by the French bank. Prosecutors in charge of the investigation "were completely under Societe Generale's thumb," de Leiris said.