Euro Bond Buyers Reaping Rewards as Companies Pay Up to Sell
(Bloomberg) -- There's some good news for Europe's primary market bond-buyers: spread premiums offered by borrowers to lure them toward new issues are on the rise and unlikely to ebb any time soon.
The so-called new issue concession is the extra return borrowers offer on new debt compared to levels on existing secondary paper. After years of being squeezed during the ECB's quantitative easing era, it seems the discount is now making a comeback.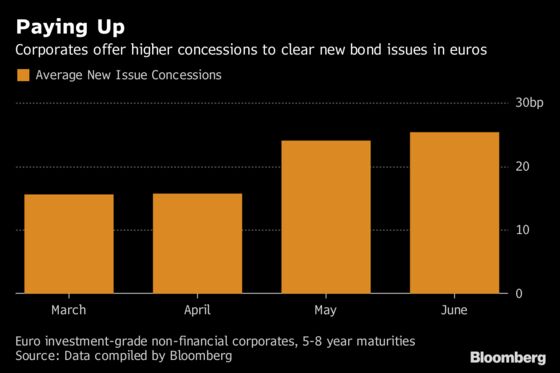 Recent primary market visitors Deutsche Telekom AG and Volkswagen Bank GmbH both offered concessions of more than 20 basis points on seven and a half year and six-year debt respectively. Compare this to March, when France's Compagnie de Saint-Gobain offered a six basis-point concession for an eight-year trade and Danone SA offered 12 basis points for seven-year notes.
While somewhat tricky to standardize, a number of credit fund managers agree that concessions have nudged wider in recent new deals. "As the European Central Bank exits QE, markets should return to the way they used to be and that applies for new issue concessions as well," said Nicholas Gartside, chief investment officer for fixed income at JPMorgan Asset Management, who helps manage about $500 billion.
Concessions reflect liquidity, sentiment and how "desperate" an issuer is to come to the market, said Henrietta Pacquement, fund manager at ECM Asset Management Ltd. With Italy's recent political crisis exposing how illiquid euro corporate bonds are, the issue of liquidity becomes particularly important when it comes to setting concessions.
"You sell old secondary bonds to get a cheaper one in the primary market. The question is, how much can you sell," said Richard Ford, credit fund manager at Morgan Stanley Investment Management. "If it's hard to sell on the secondary market, you need the new bond to be much cheaper."
A heavy pipeline of new deals also means borrowers could have to vie for investor attention. With the ECB planning an end to net asset purchases by year-end, a number of issuers are looking to take advantage of cheap funding costs while they last to raise new debt. Among them is Bayer AG, which could raise an expected 5 billion euros ($5.8 billion) across four tranches as soon as tomorrow to fund an acquisition of Monsanto Co. The German group is expected to pay 10 to 20 basis points above its existing curve, according to analysts at CreditSights.
"If you're getting deal after deal, there will have to be concessions. People will get fatigued unless they've got a lot of cash," said Paola Binns, senior fund manager at Royal London Asset Management.