Don't Fear This Burst of Biotech IPOs
(Bloomberg Opinion) -- While everyone else is watching the World Cup, biotech bankers are keeping busy. 
This week will bring a bumper crop of baby biopharmas into the market, with seven expected to go public in the U.S. — the most in more than three years, according to data compiled by Bloomberg. The list includes companies working on cutting-edge medical research, from potentially curative gene therapies to cancer treatments using re-engineered immune cells. If all seven companies raise as much money as they hope to, it will set a weekly record.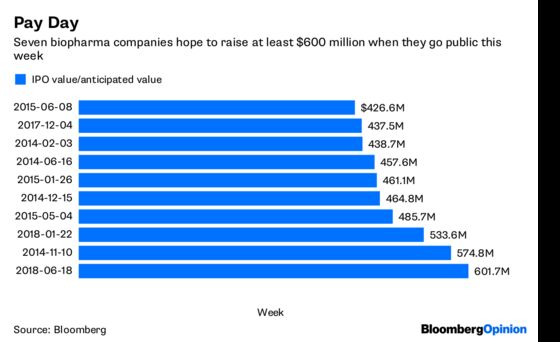 This is as good a time as any to raise money. The Nasdaq Biotech Index is well off of  its 2015 highs, but is still up nearly 40 percent from its post-pop lows. And while bigger biotechs are struggling, investors seem willing to invest in promising smaller companies. 
This is set to be the fifth consecutive quarter in which at least 10 biotech companies have made it to market on U.S. exchanges and have raised at least a billion dollars in aggregate.
Of course, where there is biotech, there is risk, and that's the case here. Gene and cell therapies are only just hitting the market and haven't proven to be commercially viable, for example. And this week's class, on top of what's come before, will test investor demand for sure. But as hot as the market is becoming, this set of IPOs doesn't look like a clear bubble harbinger. 
For one thing, the group is pretty diverse, with no two companies targeting the same disease. Several are focusing on hot research areas. Avrobio Inc.'s gene therapies aim to treat deadly rare diseases. Aptinyx Inc. is developing new pain therapies as the U.S. battles an opioid crisis. while Autolus Therapeutics Ltd. hopes to improve on the cancer-cell therapy approach that saw Juno Therapeutics Inc. and Kite Pharma Inc. get acquired for a combined $19 billion. Others aren't as on-trend. Magenta Therapeutics Inc. hopes to make bone marrow transplants more effective, and Xeris Pharmaceuticals Inc. is developing an injectable hypoglycemia treatment. 
Notably, none have the sort of scary profiles that have recently served as indicators of an incautious market. Back during the 2015 peak, for instance, Axovant Sciences Ltd. raised $362.25 million in 2015 in what remains one of the biggest biotech IPOs ever. The company's lead asset was a big pharma discard that had failed multiple trials in Alzheimer's, an especially tricky disease. It didn't work out.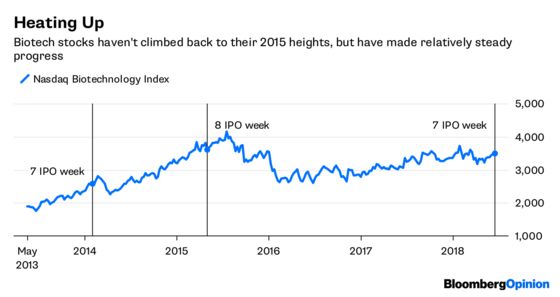 Valuations for the latest batch of biotech IPOs also appear to be relatively reasonable. The $600 million that is likely to be raised is spread out. Autolus, the group's biggest fundraiser, is targeting less than half of what Axovant raised.
Beyond salutary conditions, there's another reasonable explanation for some crowding right now. Elections have been a particular source of biotech agita. With the U.S. midterms looming, it may be better to get in now than run the risk that a return of anti-drug pricing rhetoric or a negatively perceived election result creates a more volatile market that's inhospitable to IPOs. 
Eventually, clinical trials and the market will render a verdict on this IPO class. But as it stands now, the burst of offerings doesn't appear to portend a bubble.