Brexit Bulletin: Why the Endgame Matters
(Bloomberg) -- Today in Brexit: The battle over who will control the Brexit endgame continues.
Heading into another week of high stakes political drama, it's worth remembering why the diehards on each end of the Brexit spectrum are so worked up. The fight is over what power Parliament will have in the final weeks of the divorce process. And for each side, that is the moment when their worst fears could come irrevocably true.
The kind of Brexit the U.K. ends up with – softer or harder, closer or further away from the European Union – will largely be decided in talks after Britain leaves the bloc in March 2019. But there are two outcomes that can happen before Brexit day that can't be reversed: One is that Brexit is canceled; the other is a no-deal divorce that plunges the country into chaos and into an acrimonious relationship with its closest trading partner.
Each scenario is a nightmare for those who fear it and totally palatable – even desirable – to those on the other side.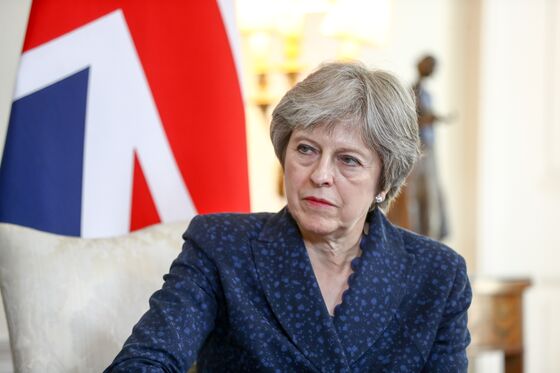 That is what the fight is over this week. MPs are haggling over how much power they will have to direct what happens next, if they reject the divorce deal Prime Minister Theresa May brings back from Brussels later this year.
Much ink has been spent on the future relationship between the U.K. and the EU and what it should look like – customs arrangements, partnerships or unions, and how closely rules about chemicals and cars should be aligned with that of the bloc. But it's worth remembering that chief EU negotiator Michel Barnier has said the U.K. can still move its negotiating red lines even after Brexit day. Nothing that's agreed now on the future relationship is set is stone, according to the EU, which says detailed talks on trade will only really get going during the transition period, the two-year stretch starting in March 2019.
The Brexit backers have put up with a lot of concessions. They've accepted the transition period that they say turns Britain into a "vassal state." They've acquiesced to the 40 billion-pound financial settlement despite saying Britain didn't owe "a brass farthing." They've even kept quiet over May's proposal that the European Court of Justice – an institution loathed as a symbol of lost sovereignty – could have a say over regulation in post-Brexit Britain.
But losing Brexit altogether is a step too far. That's what they suspect the Remainers are up to, and even if anti-Brexit lawmakers aren't actively plotting it, it's what the legislation they are pushing for would make possible. The Remainers know a future U.K. government can tack back toward a close relationship with the bloc after Brexit day. But not if there's no deal. That's why each side is fighting so hard and why bringing the government down, in comparison, wouldn't seem such a big deal.
Theresa May is surrounded, and a leadership challenge has become more likely, Tim Ross writes.
If you've lost track of Brexit, and need a reminder of how we got here, the latest Bloomberg QuickTake provides a refresher. Share it with those who need to get up to speed.
Red Bus Promise | May promised extra money for the National Health Service and said it would come from a "Brexit dividend," making good on the campaign promise  made by Boris Johnson and his now infamous red bus. As economists lined up to say there was no such thing as a Brexit dividend, because the split is set to hurt public finances, May added that some of it would come from tax hikes. In any case, it's a concession to the pro-Brexit faction in her party and government. Most of the papers gave her pledge a negative writeup on Monday.
Meaningful Resignation | Phillip Lee, who resigned as a minister over Brexit, wrote in the Telegraph that Parliament must have a decisive say over how Brexit ends. "I appeal to colleagues across the debate – Leave, Remain and those in the middle – to support Dominic Grieve's amendment to allow us as Members of Parliament to do our job and make sure the Government does not sell us a pup. If we fail, and the Government gets its way, our political generation will go down in infamy."
Going It Alone | The U.K. will develop its own satellite navigation system if the EU decides to bar the nation from accessing the bloc's Galileo program after Brexit, May said. While the two sides are "still discussing" the matter, May had a "very clear" message should the EU fail to change its position: "If it is your decision, then we will ensure that we have what Britain needs and we will do it ourselves." The EU has made it harder for British companies to win contracts for the next stages of the Galileo program, and has also raised the prospect of excluding the U.K. from the project's Public Regulated Service – the encrypted navigation used for government and defense purposes. 
On the Markets | The pound faces another week of political turmoil, Charlotte Ryan writes. Focus will return from politics to monetary policy on Thursday, when the Bank of England announces its latest decision. Sterling was little changed early on Monday. Meanwhile, U.K. stocks are undervalued and could perform well despite political instability, Morgan Stanley says.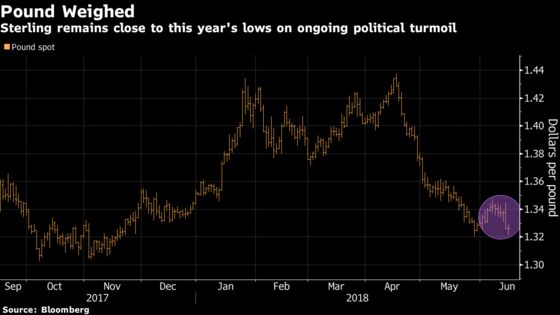 Coming Up | Michel Barnier is in Vienna on Monday. Another negotiating round has been penciled in for Tuesday to Friday, though still to be confirmed. On Thursday, European Commission President Jean-Claude Juncker and Barnier visit Dublin. With less than two weeks until a key leaders' summit, EU ambassadors will start to talk about what message leaders will send to the U.K. 
Join the Queue | Brits won't get their own line at passport control at British airports, the Sun reports. Creating separate lines would cost too much and end up forcing British nationals into the slow lane, the paper says.