Aquarius Flotilla Migrants Arrive at Spain's Valencia Port
(Bloomberg) -- Boats in a flotilla of vessels carrying 629 migrants docked in the Spanish port of Valencia, ending a perilous crossing of the Mediterranean that has focused attention on Europe's response to their plight.
The Dattilo, an Italian vessel, arrived at Valencia before 7 a.m. and passengers began disembarking, according to images shown by Spanish state broadcaster TVE. The Aquarius and the Orione, another Italian ship, berthed later on Sunday.
Spain's new Prime Minister Pedro Sanchez agreed to receive the migrants from the Aquarius after Italy and then Malta refused permission for the vessel to dock. The insistence of the new Italian government, led by the League and the Five Star Movement, to curb the arrival of migrants and asylum-seekers has already rocked relations with France, which on Saturday offered to help Spain take those landing in Valencia.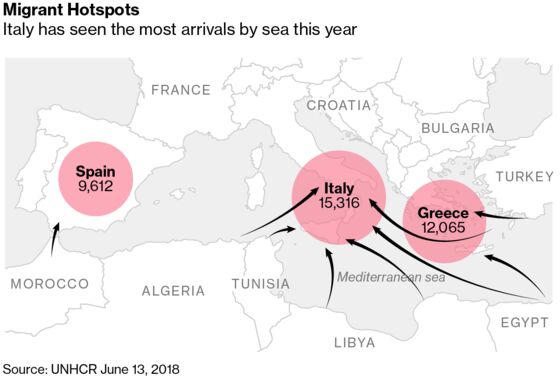 "The prime minister has been clear that this was a humanitarian situation," Spanish Labor Minister Magdalena Valerio told COPE radio. "These people could not be left drifting in the Mediterranean, where they faced death."
Lingering political tensions over the unresolved question of how to control waves of immigrants have now broken into the open, and the fallout is reshaping alliances and stoking old rivalries between European capitals. The dispute could hurt broader efforts led by France and Germany to reform euro area governance.
The Aquarius case is important because it shows "that the European Union cannot avert its gaze," Spain's Defense Minister Margarita Robles said in an interview with El Mundo newspaper on Sunday.
TV images showed Spanish Red Cross officials attending to the migrants as they walked down the Dattilo's gangways and onto Spanish soil. The first to complete reception procedures was a 29-year-old man from South Sudan, the Valencia regional government emergency and security department said on its Twitter feed.
As many as 356 officers were on hand to verify the identities and documents of the migrants, Spain's National Police force said on Twitter. Spain's first task will be to ascertain the condition of the arriving migrants and then examine each of their individual situations case by case, Valerio said.
"The guarantee is that we will balance humanity and sensitivity toward these people with the fact that we live in a country that has its laws," she said.
The arrival of the Aquarius has allowed Sanchez to give a humanitarian stamp to his new government, which is barely two weeks old. Ministers have already announced plans to study the removal of razor wire from barriers at Spain's North African enclaves of Ceuta and Melilla, and to offer health services to migrants whose documents aren't in order.
"Valencia is the end of a terrible ordeal," said Karline Kleijer, head of emergencies at the medical humanitarian organization Medecins Sans Frontieres, which helped operate the Aquarius. "There needs to be a serious European commitment to save lives and disembark rescued people properly."
Meanwhile, Spain was also dealing with another wave of craft with migrants seeking to land along its southern shore. As many as 986 people were rescued at sea and four died in the past 48 hours as they made their way from North Africa to the Straits of Gibraltar and Spain's western Mediterranean coast, the Spanish maritime rescue service said on Saturday. On Sunday it said it had rescued 57 people from a raft and was taking them to the city of Almeria.
Valerio said she saw no link between the arrival of the Aquarius flotilla and the increase in attempts by migrants to reach southern Spain. "I wouldn't link one thing with the other," she said. "People are arriving absolutely every week. It's true that when the good weather arrives, the number increases."