U.S. to Review 1940s-Era Music Rules, With Billions at Stake
(Bloomberg) -- The U.S. Justice Department plans to review agreements that determine how songwriters are paid by radio stations, restaurants and streaming services, a move that could affect billions in royalties doled out each year.
Makan Delrahim, the top antitrust official at the Department of Justice, signaled in a speech Wednesday that he was examining the so-called consent decrees. And people familiar with the matter say the department has communicated its plans in discussions with music-industry executives. The Justice Department also has scheduled additional meetings in the coming weeks, according to the people, who asked not to be identified because the talks are private.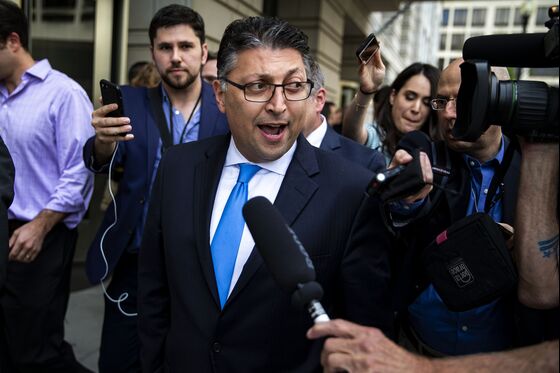 The Justice Department declined to comment on the meetings.
Consent decrees govern payments collected by go-between groups ASCAP and BMI that are later routed to songwriters or their publishers. While previous efforts to reform the system haven't been successful, Delrahim's stance has given songwriters new hope that the World War II-era agreements could finally be modernized.
"While the industry has grown around these two decrees, it should also recognize they are subject to periodic review," Delrahim said this week during the speech, held at the annual meeting of the National Music Publishers Association. Delrahim spoke at the request of NMPA President David Israelite, with whom he worked at the Justice Department under Attorney General John Ashcroft.
Delrahim has announced plans to review many of the more than 1,300 other consent decrees under his jurisdiction at the department, but has yet to officially add ASCAP and BMI to the list. He said the decrees remain relevant and promised to be deliberate, allaying fears that he would scrap them with little notice.
Without consent decrees, songwriters could potentially negotiate higher rates with radio stations and other parties. But it also could throw the industry into chaos.
"The system isn't perfect as is, but it would be much much much worse if the consent decrees were terminated," said John Bodnovich, executive director at the American Beverage Licensees, an organization that represents bars and restaurants.
Songwriters are paid what's known as a public-performance royalty when their tracks are played on the radio and in public venues like a restaurant. Public-performance royalties have spiked in recent years because ASCAP and BMI have also started collecting money on behalf of songwriters from streaming services, such as Spotify Technology SA and Pandora Media Inc.
Services like Apple Inc.'s iTunes, however, also sell albums and individual songs, which generate a different kind of royalty collected directly by a music publisher.
The government first started overseeing ASCAP and BMI before color TV was introduced. In 1941, the U.S. government sued ASCAP, which stands for the American Society of Composers Authors and Publishers, on the basis that the organization's large repertoire of songs gave it too much negotiating power over groups that wanted to license the music. The two sides settled the case, leading to the creation of a consent decree, and the government later entered into a separate agreement with BMI.
ASCAP and BMI last asked the department to adjust the consent decrees for the era of online music in 2014, and continue to hope the government will update the rules in their favor.
"We're encouraged by their willingness to have a conversation," BMI said in a statement. "This is exactly what we attempted to do four years ago, and any initiative to review the effectiveness of our decree is a welcome one."
But Delrahim's public criticism of consent decrees -- and specifically comments that he could end them after a 30-day public comment period -- have raised concerns, even from those who advocate reforms. Scrapping the system without a new method could wreak havoc on industries involved in the licensing of public-performance rights.
Congressional leaders have sent letters to Delrahim asking that he instead meet with all parties and develop an alternative first before ending consent decrees. The Senate is in the middle of debating the Music Modernization Act, a bill that would overhaul another aspect of music royalties.
"Whatever their deficiencies, weakening or terminating such judgments after only a 30-day public comment period could result in unnecessary harm to market participants and consumers," Senators Amy Klobuchar, Patrick Leahy, Richard Blumenthal and Cory Booker wrote in a letter.
Delrahim acknowledged their concerns Wednesday, and promised to keep a close eye on the Music Modernization Act. Israelite, the NMPA president, expects reform to happen, and he was relieved to hear Delrahim acknowledge any reform will be a complicated and timely undertaking.
"This is a very long conversation," he said. It "would happen slowly with lots of steps in between."