There's Life In Supermarkets Yet
(Bloomberg Opinion) -- To say not all of Tesco Plc's investors were fans of its 4 billion-pound ($5 billion) takeover of wholesaler Booker Group Plc would be an understatement. Some were vociferous in their opposition. Yet the early signs are looking good, judging by the retailer's latest trading update.
Booker's like-for-like sales rose 14.3 percent, or 12.4 percent excluding tobacco, in the three months to May 26. Analysts at Barclays had forecast an increase of 8.5 percent. Tesco's own U.K. like-for-like sales rose 2.1 percent. While that marks a slowdown from the last two quarters, it still beat analyst expectations, which had factored in moderating food price inflation and poor weather.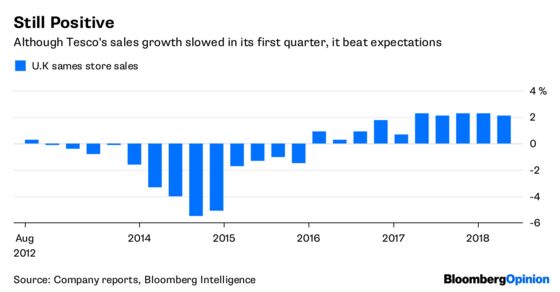 There are grounds for optimism that the cash and carry operator will continue to deliver.
Tesco reckons the deal can add an extra 2.5 billion pounds of sales annually. It has already inserted a Booker outlet in a store near Cambridge; another opened in a supermarket in London last week. Meanwhile a trial selling some Booker products in two Tesco supermarkets has been extended to 50.
Dave Lewis, Tesco's CEO, and Charles Wilson, who ran Booker before becoming head of the supermarket's British operation, are probably underestimating the synergies from the purchase.
They are targeting savings of at least 200 million pounds three years on from the deal, with 60 million pounds coming this year. But analysts at HSBC now estimate that the gross synergies could be nearer to 500 million pounds, with about half of that flowing through to pretax profit and the rest reinvested in growth.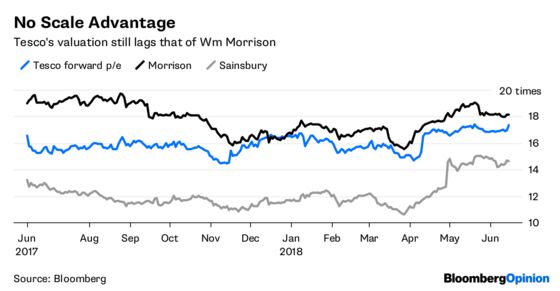 Tesco's purchase of Booker kicked off the current round of supermarket consolidation. Although it may have been eclipsed to some extent by the mega-merger of J Sainsbury Plc and Walmart Inc.'s Asda, the first quarter performance shows the combination still has merits.
There is also evidence that Wilson is taking the right steps at Tesco's British arm, closing the Tesco Direct website and extending price cuts in fresh food.
That puts the company in a good position to capitalize on any disruption created by the combination of Asda and Sainsbury. Tesco won't necessarily be a loser from that deal, as the two companies will face a lengthy competition inquiry which could result in a large number of store disposals. Even if regulators require only limited divestments, integrating two big grocers will be a distraction.
Including Friday's 2 percent increase, Tesco shares are up 42 percent over the past year. They trade at about 17 times estimated earnings, slightly more than Sainsbury but slightly less than rival Wm Morrison Supermarkets Plc.
That looks overly pessimistic. The performance of Booker is encouraging. And while Morrisons is in a strong position to pick up stores offloaded by Sainsbury and Asda, Tesco's scale and Wilson's stewardship of the U.K. mean it shouldn't be left behind.