Taper Without the Tantrum: Draghi Pulls Off Virtuoso Performance
(Bloomberg) -- For European financial markets, it's apparently all in the delivery.
The euro slumped on Thursday against every major peer, the region's stocks rallied and government bonds jumped. And the catalyst for the moves was the European Central Bank decision that saw an end date set for the easy money that has mopped up debt, spurred equities and weighed on the common currency.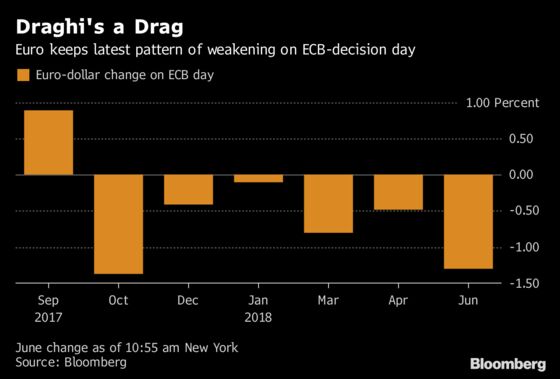 This remarkable outcome came thanks to a vintage performance from ECB President Mario Draghi, who managed to deliver a hawkish act with a dovish spin -- countering the tapering of quantitative easing with a plan to hold down interest rates through at least the summer of next year.
"The ECB deserves significant credit for getting this far without a taper tantrum, and in fact engineering an easing of financial conditions on the day of the announcement," Krishna Guha of Evercore ISI wrote in a note after the event. "Draghi's press conference was masterful and -- predictably -- leaned heavily dovish to offset what we continue to believe was substantively a hawkish decision."
History has shown it can be tricky for central banks to make even slightly hawkish decisions without rocking markets. The U.S. Federal Reserve's first mention in 2013 of winding down its own QE program caused bond yields to surge in a so-called taper tantrum. In June last year, the euro and bond yields jumped after Draghi said the economy's reflation would create room to pare back unconventional measures, while refraining from outright tightening.
Draghi had plenty of reason to maintain a dovish stance. The growth outlook has softened some recently, and the ECB itself cut its euro-area growth forecast for this year to 2.1 percent from 2.4 percent. Draghi also highlighted risks from rising protectionism.
The economic caution proved no barrier to equities in the region, however, and the Stoxx Europe 600 Index -- which had been trading in the red before the ECB -- jumped 1.2 percent Thursday, with every industry sector advancing.
Debt markets were similarly happy. German 10-year yields dropped six basis points to 0.43 percent while those on similar-dated notes from Italy -- which is among countries with the most to fear from an end to QE -- declined seven basis points to 2.74 percent.
The euro fell as much as 1.9 percent following the policy decision and Draghi's press conference, the biggest slump since the Brexit vote in June 2014. The currency was at $1.1562 as of 9 a.m. in Tokyo trading Friday.
The move topped a slide caused in October, when policy makers announced they would halve the pace of bond buying from 60 billion euros ($70 billion) -- sugar coating the news by extending the duration of the asset purchase program.
"The end of ECB QE -- the big fear hanging over euro-zone credit markets this year -- has been superseded by a new stronger guidance on rates, with the extraordinary success of calming market conditions, just weeks after euro-zone breakup fears returned," wrote Lena Komileva, an economist in London at G Plus Economics. "Take a bow, Mr. Draghi."