Rolls-Royce Jumps as Job Cuts Boost Engine Maker's Cash Goal
(Bloomberg) -- Rolls-Royce Holdings Plc shares surged after the U.K. jet-engine maker predicted that 4,600 job cuts will help spur free cash flow beyond a 1 billion-pound ($1.3 billion) target by 2020.
The stock jumped 14 percent as Rolls said Friday that it also aims to produce more than 1 pound per share in free cash in the "mid-term," up from 15 pence in 2017. That points to annual cash close to 2 billion pounds within five years, "well above" consensus estimates, according to analysts at Morgan Stanley.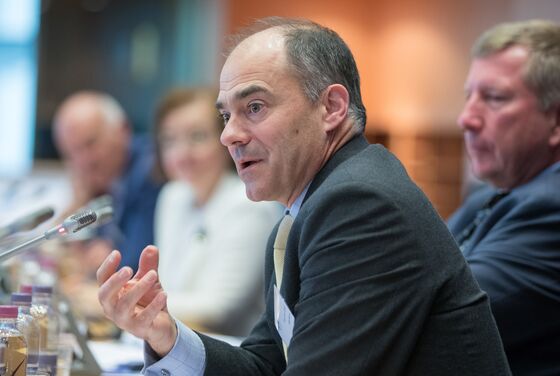 Chief Executive Officer Warren East told investors in London that the job losses announced Thursday are necessary as he seeks to make Rolls-Royce a simpler and more dynamic organization. The cuts will see 8 percent of posts eliminated and take the number lost since he took charge in 2015 beyond 10,000, saving more than half a billion dollars a year from 2020.
"This change that we're making is absolutely fundamental," East said at a capital markets day event. "It's not just another cost-reduction exercise. We must create a commercial organization that is as world-leading as our technologies."
The London-based aerospace giant is being reduced to three units to sharpen its focus on supplying turbines to main customers Airbus SE and Boeing Co. The CEO said such a sweeping restructuring would have been "foolhardy" when he first took over but is needed "to tighten the grip on the business."
Rolls-Royce shares posted the biggest two-day jump since 2004 after closing 6.5 percent higher following Thursday's jobs announcement. The stock was trading 8.1 percent higher at 954.6 pence as of 11:22 a.m. in London.
East revealed that fewer Boeing 787 Dreamliners than anticipated will need to be idled as a result of excess wear to their Trent 1000 engines.
Groundings for checks on so-called Package C turbines peaked at 44 rather than the expected 50 and the number is now falling as fewer incidents of failure are detected, the CEO said. He added that the issue has still caused a "huge amount of disruption for customers."
Checks on Package B engines, which have also shown evidence of deterioration, are underway and Rolls said that work will cost 100 million pounds this year, taking the total impact from the blade issue to 440 million pounds. Still, the new charge will be fully offset by "short-term discretionary cost mitigation," allowing full-year cash flow guidance of 450 million pounds to be maintained.
Chief Financial Officer Stephen Daintith told investors and analysts that Rolls intends to grow profits margins by reducing the 1.6 million-pound average loss on new-engine deliveries to 400,000 pounds through a combination of higher prices and lower costs.
Expenses are already being reduced by sourcing parts from lower-cost countries, with pipes for the Trent 7000 engine being built for the Airbus A330neo now being made in Mexico rather than Spain. Contractual terms are also being renegotiated for suppliers that work on Trent XWB turbines for the Airbus A350, and more manufacturing is being brought in-house. Those measures should add 500 million pounds to cash flow by 2022.
At the same time, London-based Rolls plans to boost returns from the long-term maintenance contracts that traditionally drive its earnings. More repair work will be done with engines still on the aircraft wing, cutting turnaround times and reducing shop visits, Daintith said. The number of installed turbines is set to rise almost 50 percent to about 6,500 by 2022, he said.
The company also set out growth targets for its Power Systems arm, which makes engines for ships and land vehicles. The unit is targeting revenue growth of as much as 5 percent more than the general market and a profit margin in the "mid-teens" against last year's 11.3 percent.