European Luxury Car Sales Dip as Customers Play Waiting Game
(Bloomberg) -- Sales of luxury cars in Europe dipped in May, a sign that customers may be waiting for the new models that Daimler AG's Mercedes-Benz, BMW and Audi are rolling out in coming months.
Overall new-car registrations in the region rose 0.6 percent from a year earlier, according to the Brussels-based European Automobile Manufacturers Association, or ACEA. But demand fell at the German premium brands as well as at Tata Motors Ltd.'s SUV-focused Land Rover nameplate and Swedish producer Volvo Cars.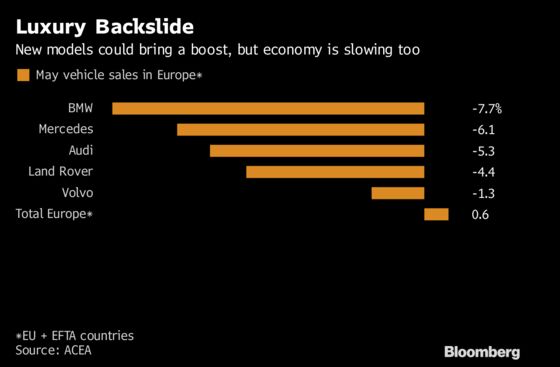 "Audi and also BMW are both suffering under relatively old model fleets," and buyers seem to be holding back until the manufacturers bring out new models, Juergen Pieper, a Frankfurt-based analyst at Bankhaus Metzler, said in an email. Daimler's dispute with German regulators over diesel-car emissions, resolved this month, may also have reduced Mercedes's sales in May, he said.
The luxury-segment slump comes as the region's economy has been in a "soft patch," according to European Central Bank President Mario Draghi. Nonetheless, activity is strong enough to overcome increased risk, he said Thursday. German carmakers count on reliable sales of their conventional models to finance heavy investments into electric and self-driving vehicles.
The vehicle market was also held back by religious holidays that shifted into May from June last year.
Mercedes, the world's biggest luxury-car maker, posted a 6.1 percent European registration decline in May. The brand is bringing out new variants of its C-Class sedan starting in July. BMW AG's namesake brand, which sold 7.7 percent fewer cars in the region last month, is renewing its X3 sport utility vehicle and bringing out the all-new X2 compact SUV.
Volkswagen AG's Audi plans to start deliveries of its Q8 SUV in the third quarter in Europe. The division's registrations in the region dropped 5.3 percent. The unit said in its most recent sales statement that business has been muted by "imminent model changeovers."
The automobile association, or ACEA, compiles car-sales figures from European Union countries, except for Malta, as well as Switzerland, Norway and Iceland. The market expanded 2.2 percent in the five months through May. Car-industry executives are expecting growth of 1 percent or less for the full year.