Italian Bonds Lead Euro-Area Rally as ECB Hike Bets Pushed Back
(Bloomberg) -- Italian bonds led a rally in euro-area government debt as traders pushed back bets for the timing of the European Central Bank's first interest-rate increase since 2011 following dovish guidance from President Mario Draghi.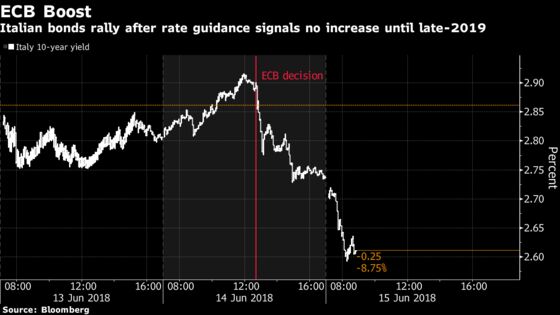 The bonds of the region's second most indebted country climbed for the third day as money-market pricing suggests investors don't expect a 10-basis point hike in the deposit rate until December 2019, compared with estimates for September 2019 immediately after the ECB's decision Thursday. That provided extra support for the notes, which have been boosted by more euro-friendly rhetoric from officials in Italy's newly formed government.
The ECB plans to keep interest rates on hold through at least the summer of next year while announcing that it would end its purchases of bonds -- meant to boost the euro-area economy -- in December 2018. The program will run at the current pace of 30 billion euros ($35 billion) per month until the end of September, and at a rate of 15 billion euros in the ensuing three months.
"Italy is leading the rally on relief at politics, relief from ECB, and the still overriding principle to reach for yield," said Marc Ostwald, a strategist at ADM Investor Services. "It is a learned response from the experience of the past seven years."
The yield on Italy's 10-year bonds fell 14 basis points to 2.60 percent, the lowest level since June 5. Those on similar-dated German bunds dropped three basis points to 0.4 percent.
Italy's Finance Minister Giovanni Tria made assurances at the weekend that the country would stay committed to the euro, while the euroskeptic minister for European Affairs Paolo Savona -- whose planned appointment to Tria's position roiled markets -- said the common currency was indispensable. The ECB's Draghi said the central bank didn't see redenomination risks and that the spike in Italian yields last month wasn't contagious.
"BTPs are stabilizing as uncertainties are removed," said Ciaran O'Hagan, head of European rates strategy at Societe Generale SA. "The ECB has removed two uncertainties for BTPs -- the potential end of quantitative easing and the timing of the first rate hikes."