Conte Starts EU Roadshow in Test of Italy's Immigration Stance
(Bloomberg) -- The international debut of Italy's new Prime Minister Giuseppe Conte has not been a smooth one.
In just two weeks in office, his government has already chalked up a diplomatic incident with France over migration and raised eyebrows with the rejection of a European Union free-trade accord with Canada.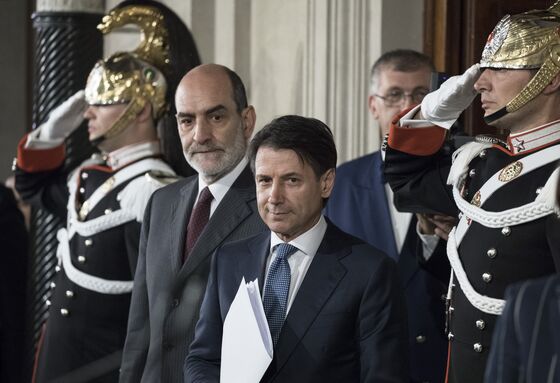 There have also been been tensions with Malta and Spain after Italy refused to open its ports for the Aquarius ship carrying hundreds of migrants, while Conte himself surprised some European allies by siding with President Donald Trump's overtures to Russia at a Group of Seven nations summit in Quebec.
Now Italy's new premier, whose populist government has already rattled financial markets, has a chance to show how far he's prepared to push his EU partners. His tour will start in Paris Friday, when he meets with French President Emmanuel Macron and will "bring Italy's request for participation and solidarity at the European level on immigration," according to a post on his Facebook page.
Conte canceled the meeting earlier this week after France said that Italy was "cynical and irresponsible" in dealing with the migrant vessel. The French president later sent a conciliatory message to officials in Rome and the two leaders spoke by phone before rescheduling the talks.
"At best, Conte's visit to Paris may help to the clear the air after the recent diplomatic spat," said Wolfango Piccoli, a political analyst at Teneo Intelligence in London. "On pressing issues such as the June 28-29 European Council meeting and Libya, Italy and France have rather different positions and it is doubtful they can be reconciled in the short-run."
The tough stance on curbing arrivals from across the Mediterranean taken by Italian Interior Minister Matteo Salvini, Conte's deputy prime minister and leader of the League party, has boosted Salvini's popularity at home.
A poll by Euromedia Research commissioned by Rai 1 and aired on June 13 found that the League has gained 10 percentage points since the March 4 national elections, and is backed by 27.3 percent of voters
Conte's roadshow will continue next week in Germany, where he will meet Chancellor Angela Merkel for the first time in Berlin on June 18.
Euro-zone finance ministers then meet on June 21, when they will seek to finalize a deal on Greece, allowing the country's exit from the bailout program. Italy will be represented by Finance Minister Giovanni Tria, who in the last week has sought to reassure investors that Italy's euro membership isn't in jeopardy.
In an interview with newspaper Corriere della Sera, Tria stressed that the new government shares France's approach to the changes needed for the EU. "We agree with what France proposes," he said. "We want to move forward on many aspects of euro-area governance and the banking union."
EU officials are waiting for Italy's 2019 budget plans to be released in September to see how it intends to square plans for tax cuts and new spending proposals with the bloc's deficit restrictions.