Japanese Investors Get Their Own Mortgage Bond Index in Denmark
(Bloomberg) -- The largest mortgage lender operating in the world's biggest covered-bond market is giving Japanese investors a new tool to track their growing investments.
Nykredit Realkredit A/S, which is based in Copenhagen, has created a mortgage-backed covered-bond index that converts Danish krone returns into Japanese yen. The new gauge is a first in Denmark and follows requests from clients who want to track their performance against a yen-denominated benchmark, according to Jacob Skinhoj, head of fixed-income research at the lender.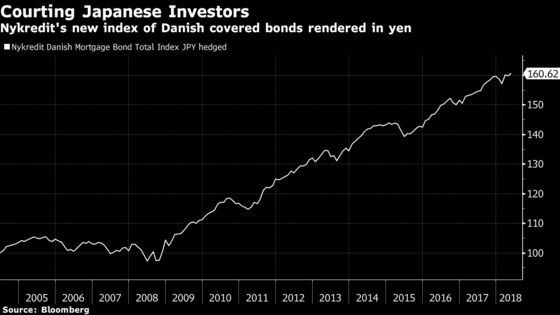 "It's important for Japanese asset managers to have these figures, and their clients prefer an independent bank to calculate these numbers," Skinhoj said. The index "also shows that demand from Japan is quite large and is expected to continue," he said.
Once largely dominated by local pension and insurance companies, Denmark's $460 billion, AAA rated covered-bond market has become a magnet for investors looking for safe returns that exceed those available on government bonds. Foreign investors have doubled holdings to more than 22 percent of the market since 2011, according to Danish central bank data.
Buyers first crowded into the short end of the market as they fled Europe's sovereign debt crisis. Over the past few years, interest has spread to include more complex callable bonds with maturities as long as 30 years.
Nykredit's new index, which provides data back to 2004, uses one-month forward rates to convert into yen and includes all frequently traded callable bonds, Skinhoj said. Bondholders can have as few as 18 securities and still avoid tracking errors, he said.
Denmark's strong economy adds to the appeal of the bonds, as does the monetary policy environment, Skinhoj said. The country has had negative central bank interest rates longer than any other, as part of its effort to defend the krone's peg to the euro.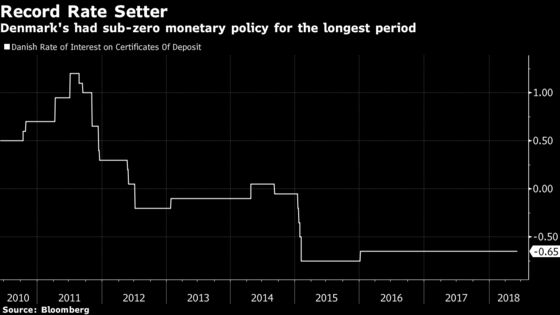 Japanese investors use short-dated forward contracts to eliminate currency risks. At the same time, Danish yields are lower than Japanese, which means a bigger gain from the FX forward, Skinhoj said. "For the last two years, you would have had the extra return on top of the return on Danish bonds of around 0.7 percent, due to the FX hedge."
"We expect that the return from the FX hedge will continue to be positive for at least the next couple of years or maybe even longer," Skinhoj said. "We're not seeing any signs that the Danish central bank should increase rates any time soon."