Macron: France Spends Crazy Money on Welfare That Doesn't Work
(Bloomberg) -- President Emmanuel Macron has been testing public opinion for weeks on his plans to curtail France's welfare state. Now he's showing his hand.
"We put a crazy amount of dough into our social benefits and poor people are still poor," Macron says in a two-minute video posted on Twitter late Tuesday. "We're not finding a way out."
The clip shows Macron talking to his aides at the Elysee presidential palace as he prepares for a speech on healthcare and banging the table with frustration.
"We must prevent poverty and make people take more responsibility for themselves to break out of poverty," he adds.
That's a notion that may well stir up controversy in a country with a deep attachment to the benefits safety net.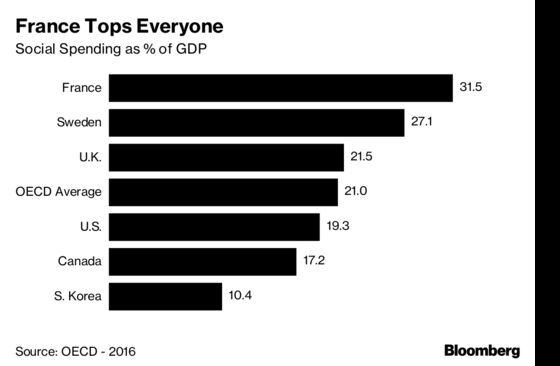 Forty-year-old Macron has vowed to "transform" his country during his five-year mandate, reviewing benefits systems that in some cases have been in place since the foundations of modern France were put in place after World War II. In a bid to counter accusations that he's the president of the rich, Macron expanded his idea of a revamped French social system in a speech Wednesday in Montpellier, southern France where he said that "dignity" was his goal and that "work" was the "key to emancipation."
The government this week plans to approve a bill to open up the national railway system to competition. Macron has also been loosening up the labor rules, cutting unemployment payments and lowering business tax as part of his campaign to make France a "start-up nation." But he's been more reticent until now about his plans for the benefits system.
In Macron's vision, taking French people off benefits and encouraging them to get jobs is the key to modernizing the country, one aide said last month. But the government has tiptoed around the issue of concrete budget measures for the past month, wary of stirring up opposition around the country.
"The terms he used are full of disdain for those who can't make ends meet," Laurence Sailliet, a spokeswoman for the main opposition party, the center-right Republicans, said on BFM Television. "Put yourself in the place of French people who receive welfare. Do you want to hear the president of the republic talk about you like that? It's hurtful."