Garment District Empty of Holiday Crowds Spells Gloom in Turkey
(Bloomberg) -- The holiday crowds are nowhere to be found in Istanbul's garment district. And that has shopkeepers more worried than usual.
"We were supposed to be having a rush period, but it's not there," said Mecit Koca, a 30-year-old owner of a children's clothing store. "There are companies who ship products within Turkey, export to Middle East and some European countries from here. Do you see any rush, excitement?"
Friday marks the end of Ramadan and the start of Eid al-Fitr, the Muslim holiday that celebrates the completion of the fasting month. In any other year, the streets of the ancient entrepot, with its warren of shops and congestion of trucks, peddlers and customers would be jammed.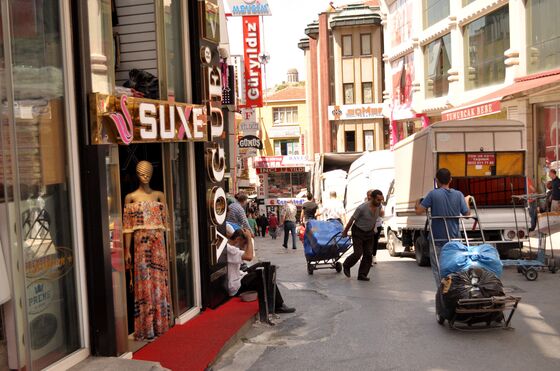 "In old times, about 15 days before the Eid, you wouldn't be able to walk because of the crowds: Porters, workers, shopkeepers, shoppers. Look at the streets now, who is there?" said Mustafa, a 60-year-old employee at an underwear store who didn't want to give his full name. "I spent 25 Ramadans, and holidays here. The economy is not doing well."
With elections set for June 24, the shortage of customers is giving the shopkeepers plenty of time to complain about the plunge in the lira and increase in interest rates driving up their costs and making their commercial life unbearably unpredictable. None blame President Recep Tayyip Erdogan -- at least not publicly.
"I'm not really happy about the timing of the elections; just when we were hoping to do some business and earn a few bucks, we're having elections and people don't want to spend," said Mehmet, a 55-year-old owner of a menswear store he took over from his father. "It's the beginning of the summer season and the first holiday season is very important for the textile businessmen. This was our biggest hope this year, and right in the middle of it we'll go to vote."
While the lira's decline has slammed profits, few seemed willing to borrow, either, given the level of interest rates, "I'd think 50 times, and still will do all in my power to avoid getting a loan," Mehmet said.
The lira reached as low as 4.9253 last month, prompting the central bank to raise its benchmark one-week repo rate to 17.75 percent. That means companies borrow at more than 20 percent.
"We have an economic crisis," Mecit said. "until two weeks ago, fabric sellers weren't even able to give proper pricing because of the rapid changes in the currency."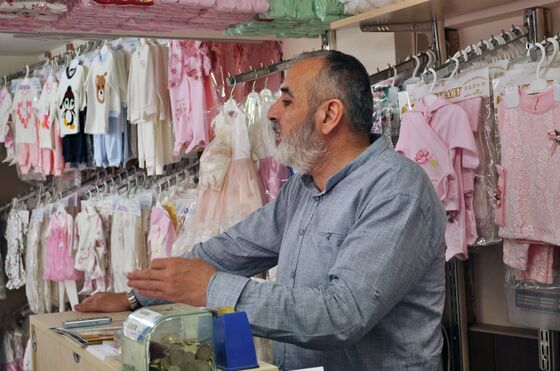 Erdogan and some of his entourage attribute the dive in the lira to malign efforts by foreign powers and market manipulators.
"I believe foreign powers have influence on FX. But there are countries who are more affected than us, I hear," said Orhan Kilinc, a 55-year-old who owns a store that sells baby clothes. He said his business is going well and that he hopes Erdogan and Ak Party win both presidential and general elections. "I hope these attacks and the rise in dollar are temporary and artificial. I believe it can be overcome by a strong government and a president. Then foreign powers cannot touch us," Kilinc said.
Mecit Koca, an undecided voter, said he'd paraphrase an earlier Erdogan view: "If your economy is strong, if you can manufacture your own products within the country, if you can stand on your feet alone, then foreign powers cannot harm you. It's as simple as that."