Brexit Bulletin: Dodging Defeat, Danger Ahead
(Bloomberg) -- Today in Brexit: Theresa May headed off a rebellion in Parliament with the promise of a compromise. Now comes the hard part.

Prime Minister Theresa May avoided a defeat in Parliament on Tuesday that could have triggered a major political crisis. Now she needs to make good on the last-minute promise she made to keep the rebels on her side – without enraging the other wing of her warring party.
A pattern is emerging in the politics of Brexit Britain: a crisis, then a vague compromise that keeps all sides happy. The compromise is soon revealed to be an unsustainable fudge.
Yesterday, for example, just hours after May dodged defeat by giving rebels her personal assurance that their concerns would be taken into account, each side was briefing against the other and spinning their own version of what she had promised. Talks between the rebels and the government start today and it remains to be seen which side got the best deal – and just how much power May will hand to Parliament over the final stages of Brexit negotiations.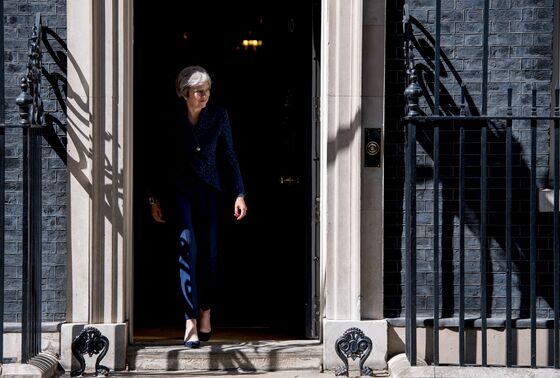 What does seem clear is that the frantic horse-trading with lawmakers reduces the chances of Britain tumbling out of the European Union without a deal. That's the main demand of the rebels, who want a guarantee that the government can't walk away without consulting Parliament. It could also mean that closer ties will be maintained with the EU, since both houses of Parliament favor a cosier divorce  than the one being pursued by the government. The deal could potentially weaken May's negotiating hand and shorten the time available to clinch an agreement.
"At the start of this process, we had no vote in Parliament on the final deal at all. Now we have a real vote and an opportunity for Parliament to influence and approve the final deal," said Nicky Morgan, a high-profile pro-EU lawmaker. "But there is more work to do, which is why this is not yet over."
Read More: Brexit Is Turning Into the Road Trip From Hell: Therese Raphael
The concessions to the rebels are potentially a problem for Brexit hardliners. They want a clean break from the bloc but also say the premier needs to be able to wield the option of a walkout, at least as a negotiating tool. Pro-Brexit Tories have the power to trigger a leadership challenge if May pushes them too far. One pro-Brexit minister last night insisted the rebels had lost. 
The premier has until Friday to draft a legally watertight amendment to the EU Withdrawal Bill that will be acceptable to both sides, Tim Ross reports. Failure to word the compromise in a way that satisfies all sides would be a disaster, since it will probably be debated and voted on in the House of Lords on Monday, according to one senior government official.
And the rebels have an ace up their sleeve, potentially. If the government reneges, they will get their allies in the House of Lords to put the amendment that was voted down Tuesday, or a similar one, back into the legislation, and the fight will be replayed.
Phillip Lee, who quit the government dramatically on Tuesday just hours before the vote, writes in the Times that the government is heading for a Brexit that is "neither fully to leave the EU nor fully to stay," and people need to be able to vote on it again.
Arron Banks, a key donor of the Brexit campaign, accused lawmakers who summoned him to a hearing on Tuesday of pursuing a "witch hunt" and seeking to overturn the referendum result.
Death Threats | Outspoken pro-EU lawmaker Anna Soubry said at least one member of Parliament wasn't going to vote as they wanted this week "because of threats to their personal safety, to members of their parliamentary staff and members of their family." Soubry herself has also been threatened, and she said a colleague had six armed undercover guards. "That is the country we have created and it's got to stop." 
The View from Brussels | Former U.K. envoy to Brussels Ivan Rogers said on Tuesday that Brussels was unlikely to agree to either of the two customs proposals being considered by the government – known respectively as "max fac" and the new customs partnership. "If they're in that position in saying neither max fac, nor the new customs partnership is a runner, then, you know, you don't need to be in my shoes to think we're heading for a major crunch." 
Leaving London | Morgan Stanley expects to move 400 to 500 jobs out of the U.K because of Brexit, or about 10 percent of its workforce in the country. "It's big, it's meaningful, but it's not life-changing," Chief Executive Officer James Gorman said on Tuesday. "It's net negative, there's nothing particularly good about Brexit."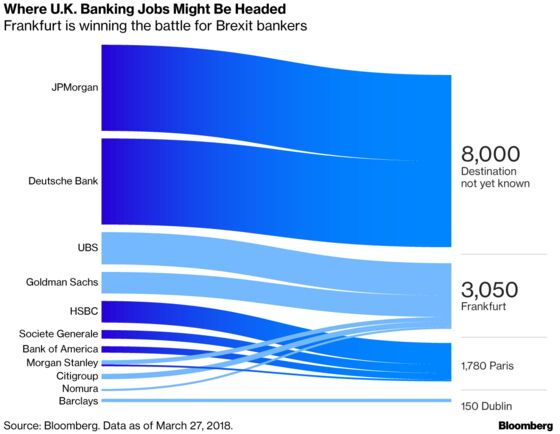 Luring Entrepreneurs | The U.K. will offer visas to immigrants looking to start new businesses as it seeks to attract technology entrepreneurs, amid reports they are being deterred by Brexit. The new visa has been devised after feedback from the tech sector, the Home Office said. "We want to do more to attract businesses to the U.K. and our migration system plays a key part in that," Home Secretary Sajid Javid will say on Wednesday in prepared remarks.
On the Markets | The pound rose after the government won the key vote in Parliament. But analysts didn't expect the rally to last. Sterling traded 0.1 percent weaker early on Wednesday at $1.3360.
Coming Up | Prime Minister's Questions at noon. Shadow Chancellor John McDonnell speaks at CityUK conference at 10:30 a.m. EU Withdrawal Bill debate continues, with votes on the customs union – the government has a deal to avoid defeat on that one. Pro-Brexit Environment Secretary Michael Gove speaks to Environment Committee in Parliament at 9:30 a.m.