U.S. Sees Rosy Outlook for Pork, Grain Exports Amid Trade Tumult
(Bloomberg) -- The outlook for U.S. exports of pork, dairy products and grain is rosy, the Department of Agriculture said, defying trade discord with countries from Mexico to China.
Pork exports this year may rise 6.4 percent, more than forecast in May, and the 2019 gain will be 2.9 percent, the USDA said Tuesday in a monthly report. The agency cited "continued strong shipments to a number of key markets and expectations of continued pork exports to Mexico" in 2018.
Last week, Mexico imposed tariffs on some U.S. meat cuts and cheese in a response to American import taxes on steel and aluminum. "Continued strength" in U.S. shipments of fatty dairy products this year may counter the Mexican move, the USDA said.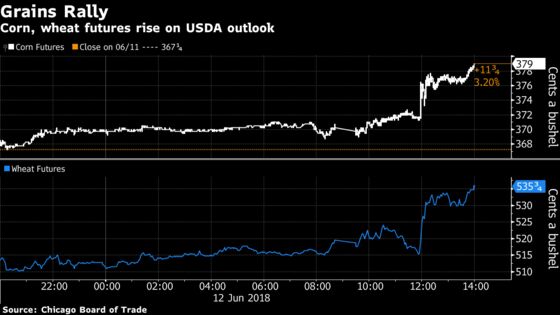 Corn Surges as USDA Pegs Stockpiles Below Analyst Estimates
The USDA's outlook was also positive for grain. The agency boosted the forecast for sorghum exports on demand in China, which recently scrapped an import tariff. Wheat shipments may climb as crops shrink in rival nations, and burgeoning corn demand abroad probably will cut domestic inventory, according to the report.