Mexicans Hold Off From Buying New Cars On Election, Nafta Fears
(Bloomberg) -- Uncertainty over the future of Nafta and the upcoming presidential elections is discouraging Mexicans from buying new cars.
Sales of cars and light trucks fell 7 percent in May, marking 12 straight months of drops, according to a trade group of the nation's auto dealers known as AMIA.
The decline comes a mere three weeks before Mexico votes for its next president. Traders are concerned that Andres Manuel Lopez Obrador, a leftist candidate who holds a 26 percentage point lead over his nearest rival, could upend the economy at the same time that Nafta negotiations with the U.S. are at an impasse. Doubts about the future of the trade deal increased after President Donald Trump clashed with Canadian Prime Minister Justin Trudeau last week.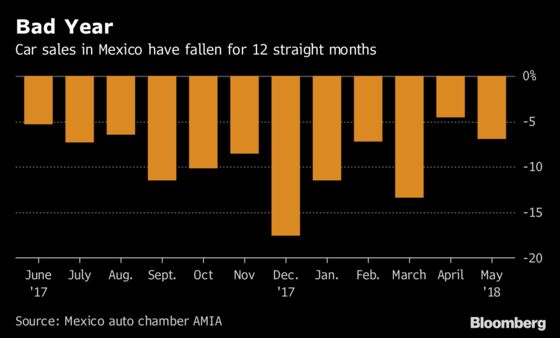 All the uncertainty in economic, political and social matters "is being reflected in consumers' disposition to acquire durable goods in the short term," said Guillermo Rosales, a top official at AMIA in a press conference Tuesday.
One reassuring thought: Automakers in Mexico mainly depend on the country as a manufacturing platform to supply foreign markets, such as the U.S. In May, Mexico's production grew 3.9 percent year over year.