Crest Nicholson Drops Target as Homebuilder Exits Central London
(Bloomberg) -- Crest Nicholson Holdings Plc dropped a sales target for next year and said it will exit central London, as the slowdown in the U.K. capital's housing market starts to hit homebuilders.
The company plans to pull out over the next 18 months amid a "challenged" market for homes valued at more than 1 million pounds ($1.3 million), it said Tuesday, as it scrapped a goal to generate 1.4 billion pounds of revenue for 2019. The shares fell as much as 7.5 percent, leading home builders lower.
Chief Executive Officer Patrick Bergin said in a statement that pricing is flat across the group and construction costs are rising, affecting margins. London's housing market is in flux, with prices falling even as the government's interest-free loan program boosts demand for homes below 600,000 pounds. Home values in the U.K. capital fell 2.5 percent in April from a year earlier, the only region where prices declined, Acadata said.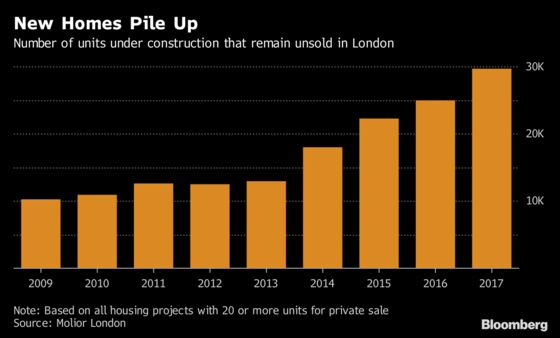 The number of unsold homes under construction in London rose 19 percent last year, to the highest since Molior London started compiling the data in 2009. Almost half of the properties are priced between 1,000 pounds and 1,499 pounds a square foot, the data show. The average London home sells for about half that price per square foot.
Crest Nicholson's shares tumbled 6.3 percent as of 12:17 p.m. in London, the biggest decline in the Bloomberg EMEA Home Builders Index.
Pretax profit fell 2 percent to 74.8 million pounds in the company's fiscal first half.
Besides exiting central London, the company said it would limit purchases with units costing more than 1 million pounds. Crest Nicholson sees houses priced at less than 600,000 pounds generating 80 percent of its open market revenue in 2018 compared with 72 percent estimated for this year.
(An earlier version of this story corrected the earnings reporting period.)