Colombian Crypto-Exchange to Confront Banks for Closed Accounts
(Bloomberg) -- A popular cryptocurrency platform in Colombia, Buda.com, slammed regulators in the South American nation after three banks shuttered its accounts without notice.
The crypto-to-crypto platform, which has about 35,000 accounts in Colombia and a total of 45,000 more in Peru, Argentina and Chile, is preparing action to recover the accounts closed by Banco Bilbao Vizcaya Argentaria, Davivienda and Bancolombia, director of Buda.com Alejandro Beltran said Tuesday.
"There are mixed messages coming from the financial sector on innovation," Beltran said by phone. "The Colombian government promotes innovation and development, but when it comes down to it, they block what they don't understand and are putting the brakes on financial technology."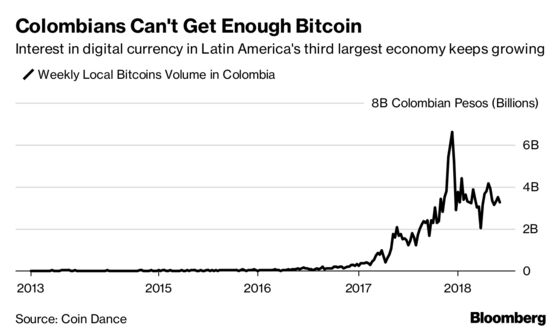 It's a common struggle for cryptocurrency businesses worldwide to find a reliable banking partner. In April, Buda sued ten Chilean banks for closing their accounts. While there is no law to regulate cryptocurrencies on the books in Colombia, the Superintendent of Financial Institutions has repeatedly rejected their use, warning regulated institutions about the potential for financial crimes.
Pressure is mounting on regulators to monitor potential vehicles of money laundering, especially during the post-conflict transition to peace, said Alba Chaparro, a forensic auditor of the Attorney General's Office. The Marxist guerrilla group FARC laid down its weapons last year after half a century of insurgency.
"Cryptocurrency has become a very delicate subject in Colombia, and if you lose your money it's very hard to get support from the state," Chaparro said. "There's a certain taboo here that people could use virtual currencies to launder money, especially with not all FARC money being accounted for."
Colombia's central bank Governor Juan Jose Echavarria has said that Bitcoin is a bubble, isn't a currency and that its use is illegal in the nation's financial system.