Brexit Bulletin: Down to the Wire
(Bloomberg) -- Today in Brexit: The British government will find out if it has staved off a rebellion in Parliament. The stakes are high. 
Theresa May's government launched into last-minute negotiations to quell a Brexit rebellion by her lawmakers. But the prime minister is still facing a knife-edge vote on Tuesday that could determine the future of Brexit, and of her career.
May bought off pro-European rebels on what would have been a largely symbolic vote on whether the U.K. should remain in a customs union with the European Union after Brexit. With a vaguely worded fudge that the whole party can get behind, that fight has been postponed until another showdown next month.
But she's still at risk of a rebellion in a vote with potentially more explosive consequences. An amendment inserted by the House of Lords into her key Brexit legislation essentially hands Parliament the power to direct negotiations if lawmakers vote down the divorce deal that May brings back from Brussels.
May hates this clause, known as the "meaningful vote" amendment, because she says it would tie her hands in negotiations. Brexit backers hate it because they see it as a tool to thwart the divorce. If the amendment is accepted, it would be another reason for Brexiters to want to replace May with one of their own.
For pro-EU rebels, the stake are high. While the customs issue will come again, they won't get another chance to secure themselves a meaningful vote on the final divorce deal that May expects to secure later this year. The government wants lawmakers to be faced with the choice of this deal or no deal – something pro-EU rebels see as no choice at all. They want to be able to send May back to the negotiating table if they don't like it.
Last night May spoke to lawmakers in Parliament and was greeted with applause as the party made a show of unity. Some rebels had been wavering, reluctant to destabilize May and risk a Brexit hardliner taking over. Last night, some were still considering what to do. Dominic Grieve, a leading rebel, told BBC Newsnight he might still go against the government on the meaningful vote if his own compromise amendment doesn't get government backing. The MPs will face huge pressure right down to the vote, expected at about 3 p.m. on Tuesday.
May urged her lawmakers to think about the message they were sending to the EU and begged them not to tie her hands in negotiations. Robert Buckland, the Remain-supporting solicitor-general, was more succinct as he stood alongside euroskeptic Brexit Minister Steve Baker:
"There is ongoing work happening. It's emblematic of a real sense of common purpose in the party that we all hang together or we all hang separately."
The U.K. economy is looking weaker than expected as manufacturing declined the most in more than five years in April.
David Davis stepped up warnings that failure to cooperate on security after Brexit will put EU citizens at risk in a short meeting with his EU counterpart on Monday, Ian Wishart reports.
On the Markets | Investors are watching the votes on Tuesday and Wednesday for two things: what it means for the direction of Brexit and what it says about the strength of Theresa May. The pound edged 0.1 percent lower early on Tuesday to $1.3364.
Is It a Backstop? | The European Commission released another one of its slideshows, setting out its objections and concerns over the U.K.'s proposal for the Irish backstop – the clause in the divorce deal that needs to guarantee no hard border will emerge on the island of Ireland. It set out the British proposal vs the EU's one – one the U.K. calls unacceptable – and it' s pretty clear which one Brussels prefers. 
Lose Now, Win Later | Jaguar Land Rover is moving all production of its Land Rover Discovery SUV to Slovakia from a plant near Birmingham, and retooling the Birmingham factory to make a new generation of electric cars, Kaye Wiggins reports. All Discovery production will be gone from the U.K. by early 2019. While some agency-employed plant workers may lose their jobs, the decision to build electric vehicles at Solihull looks like a major commitment to U.K. manufacturing.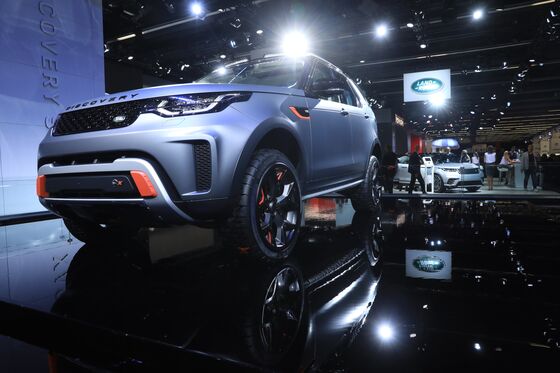 Equivalence Won't Work | The U.K. shouldn't rely on the EU's "equivalence" rules to do business after Brexit, according to Britain's most senior financial-services lawmaker in the European Parliament. "Equivalence is a strange term, and unique in Brussels terminology," Kay Swinburne, a Conservative MEP and vice-chairman of the parliament's economic committee, said in a panel discussion at a conference on Monday. "If I had known the U.K. would rely on it, we would have drafted it a little better in MiFID."
Boris's Latest Plan | Boris Johnson has a new infrastructure idea: build a bridge between Northern Ireland and mainland Britain, the Telegraph reports. The Democratic Unionist Party is already in favor of the £15 billion idea and now Johnson is interested, the paper says. Is this a way of reassuring the DUP that whatever Brexit brings, they won't get cut off? Johnson has history with infrastructure as a solution to Brexit – he's also proposed a bridge to France.
Coming Up | Brexit backer Arron Banks is expected to appear before Parliament's Digital, Culture and Media committee from 10:30 a.m., two days after newspaper reports that there were more Russian links to the funder of a pro-Brexit campaign than previously thought. Former EU envoy Ivan Rogers is in front of the Commons Home Affairs Committee, also at 10:30 a.m. May chairs a Cabinet meeting.