Brexit Britain's Best Pitch to Investors? Italy
(Bloomberg Opinion) -- British Prime Minister Theresa May is struggling to devise a plan for Brexit that can win both parliamentary support and European Union agreement. Investors are looking on with barely concealed dismay. 
U.K. stock indexes are up in absolute terms -- but relative to other markets, London-listed shares have performed poorly once the falling pound is taken into account. A dollar-based investor has seen U.K. stocks underperform European stocks, which in turn have lagged the U.S. market since the Brexit referendum.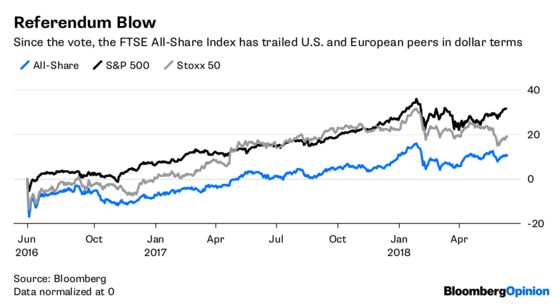 Fund flows tell the same story. Since the 2016 referendum, U.K.-focused investment funds have suffered net outflows of 5.3 percent, against 3.2 percent for European funds, and double-digit inflows for Japanese and emerging-market funds, according to data compiled by Bank of America Merrill Lynch. Net flows into U.S. funds are broadly flat.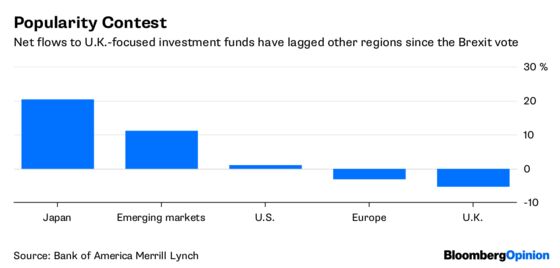 Now look at recent takeovers. Few foreign bidders have taken advantage of sterling's weakness to buy U.K. companies. The bids for chip designer Arm Holdings and broadcaster Sky Plc in 2016 were helped, but not driven, by currency.
The deals that have happened show a polarization. On the one hand, companies with very international businesses that happen to be listed in the U.K. — drugmaker Shire Plc, Nex Group Plc, Fidessa Group Plc, and satellite operator Inmarsat Plc — have attracted interest from overseas buyers.
On the other, companies that rely on the U.K. for their income are huddling together to weather the economic storms ahead — witness CYBG Plc's tilt at Virgin Money Holdings U.K. Plc, or J Sainsbury Plc's "merger" with Asda. In the latter, Walmart Inc. appears to be beating a retreat from the U.K. to the extent that it swaps control of Asda for a minority stake in the combination.
Deals at the sharp end of the economy — think shopping malls — have foundered. Paris-based Klepierre SA tried to buy Hammerson Plc, which operates shopping malls across Britain, and got whacked by its shareholders before it could formalize a bid.
Betting against U.K. stocks may now be getting less attractive. Some of the hedge funds' favored short positions have proved painful this year — Ocado Plc, Next Plc and Sainsbury are up. And the valuation of London-listed companies that generate most of their revenue domestically relative to their more-internationally focused peers is at the lowest in a decade, according to recent research by strategists at UBS. That could be a trigger. Historically, domestic stocks have rallied in the following 12 months, the researchers say.
There are signs that the worm may at least be twitching. European-focused funds have seen slightly higher net outflows this year than British funds. That may just be the attraction of the more commodities- and financials-focused FTSE-100 as the global economy improves and rates rise. But it's also probably got a lot to do with recent political turmoil in Italy.
Being slightly more stable than Italy. It's hardly the greatest advertisement for Britain's attractiveness as an investment destination.