10-Year Yield at 2.6%? Market's Abuzz Over Huge Options Wagers
(Bloomberg) -- Hours before a crucial Federal Reserve decision, a bullish trade is gaining momentum in the market for options on Treasury futures.
Over the first three days of this week, traders paid more than $75 million combined to buy almost 200,000 call options on 10-year futures. Coming just weeks after 10-year yields set an almost seven-year high above 3 percent, the bets amount to a bold call targeting a drop to as low as about 2.6 percent before the biggest chunk of the contracts expire Aug. 24.
The lifespan of the wagers covers several months of potentially rough roads for financial markets, with trade tensions brewing, key central-bank meetings looming and U.S. inflation accelerating. Of course, the trades could be a hedge for an existing short position, rather than an outright bet on lower yields. Either way, it signals expectations for turbulence ahead, with the potential for haven flows into Treasuries.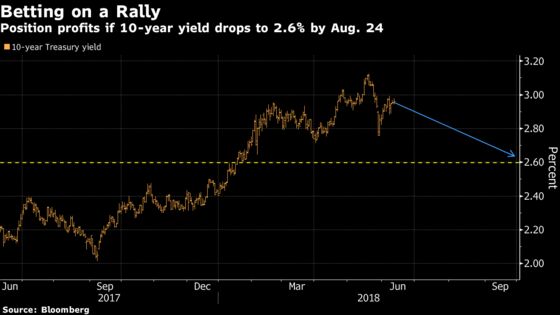 Benchmark 10-year yields were little changed Wednesday at 2.96 percent before the Fed's 2 p.m. announcement in Washington. Traders have plenty riding on the decision even as a rate hike is widely expected.
Whether a wager on a dovish Fed outcome, or on a shakeup in other parts of the world in the coming weeks, the positions are grabbing the attention of interest-rate traders.
Monday saw the purchase of 100,000 contracts in a call-option spread on 10-year futures, for a premium of $45 million. That's according to preliminary Chicago Mercantile Exchange open interest data, which also indicated it was a new position. The bets target a drop to about 2.6 percent before the contracts expire on Aug. 24. The potential profit: $155 million, according to data compiled by Bloomberg.
Traders plowed into bullish options bets again Tuesday, purchasing 50,000 calls for a premium of about $20 million, targeting a drop in yield to 2.9 percent or lower by July 27. On Wednesday, traders added to that bet by purchasing 40,000 call-spread contracts for a premium of $12.5 million, with maximum upside reached on a drop to 2.6 percent.
The positions are at odds with the stance of hedge funds and other large speculators, who hold close to a record short position in 10-year Treasury futures.
So while the main event of the week so far -- the Singapore meeting between U.S. President Donald Trump and North Korean leader Kim Jong Un -- didn't exactly roil markets, these bullish options bets get their next shot this afternoon in Washington.